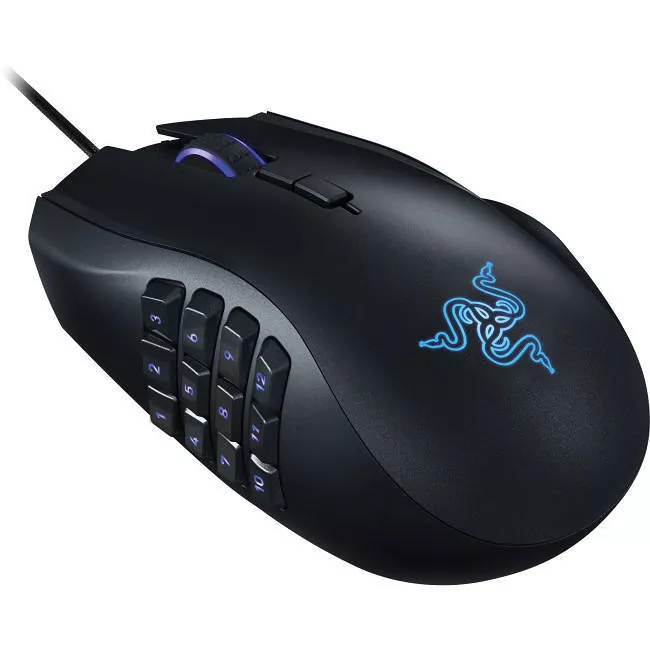 MPN: RZ01-01610100-R3U1
Razer RZ01-01610100-R3U1 Naga Chroma
MECHANICAL 12 BUTTON THUMB GRID
The Razer Naga Chroma's original 12 button thumb grid is outfitted with mechanical switches to give you tactile and audible feedback, so you can be assured of every actuation.

The thumb grid's buttons have a concave shape to allow each button to stand out individually. This allows for blind-find so you stay focused on the game, letting your instincts and reflexes lead you to victory.

THE WORLD'S MOST PRECISE GAMING MOUSE SENSOR WITH 16,000 DPI
Boasting the world's most precise True 16,000 DPI 5G Laser gaming mouse sensor, with 0 interpolation, the Razer Naga Chroma provides you with unsurpassable accuracy, so you'll have an even greater edge over your competition. With its ability to track 1 DPI increments and a lift-off cut-off distance as precise as 0.1 mm, you can react instantly while you skillfully maneuver your way to victory.

CHROMA LIGHTING WITH 16.8 MILLION CUSTOMIZABLE COLOR OPTIONS
With Chroma customizable lighting for both the scroll wheel and thumb grid, you can choose from an impressive spectrum of colors to personalize your Razer Naga Chroma. As each region is controlled independently via Razer Synapse, you can make this truly unique mouse distinctly yours.

TILT-CLICK SCROLL WHEEL
The scroll wheel on the Razer Naga Chroma goes left and right, as well as up, down and in for more buttons at your disposal, whether for destroying games or navigating a lengthy forum for the best MMO strats.

IN-GAME MMO CONFIGURATOR
When you enable the Grid Assist Display overlay in-game, you'll be able to refer to exactly where every skill has been set on the grid. You can even configure your entire mouse's setup from inside the game. Never have to Alt-Tab or exit a game to prepare yourself before an epic dungeon raid or boss fight. Set the transparency to make the overlay more prominent or less intrusive as you need. If you play World of Warcraft, we've got a special configurator developed just for it. Intuitively drag and drop your skills right onto the overlay to customize your loadout. Create as many grids so you have all necessary skills ready on-hand.