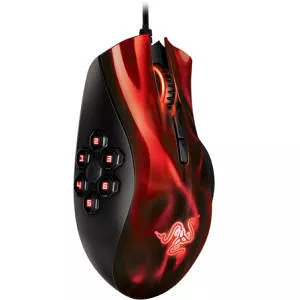 MPN: RZ01-00750200-R3U1
Razer RZ01-00750200-R3U1 Naga Expert Moba/ Action-rpg Gaming Mouse
HACK N' SLASH YOUR WAY TO VICTORY

When fighting frenzied waves of enemies, there's no time to think and no time for failure. With the Razer Naga Hex - Wraith Red Edition, bind your skills to our 6 mechanical thumb keys and make sure that every attack is executed to perfection.
Devastate hordes of enemies with lightning fast combos, as our high performance buttons register and accurately execute up to 250clicks a minute, ensuring your enemies are kept at bay, even in the heat of battle.
Fight frenzied wave after wave of enemies with the Razer Naga Hex.