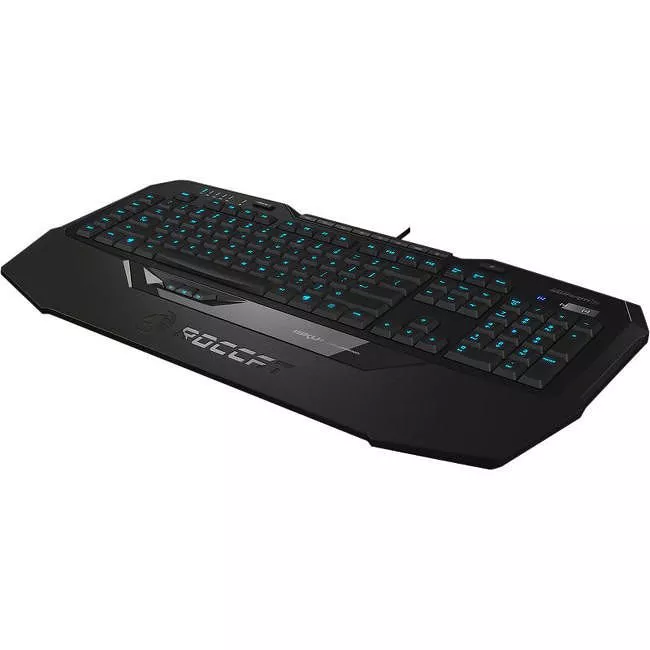 MPN: ROC-12-771
ROCCAT ROC-12-771 Isku+ - Illuminated Gaming Keyboard
ROCCAT® Isku+ - Illuminated Gaming Keyboard
Total gaming domination. Skill is essential, but the right tool is what puts a dedicated gamer over the top. Combining amazing technical engineering with a modern, refreshed design, the Isku offers you supreme quality, precision command, and a bold, uniquely ROCCAT® aesthetic. The Isku+ is an instant classic.
Light 'em up
Thanks to its off-white UV-coated keys and its extreme ice blue backlighting in 6 adjustable brightness levels, the Isku+ makes it easy to always hit the right key, even in low lighting. The Isku+'s optimized illumination also means it's perfect for avoiding eye strain during those long gaming sessions.
Easy-Shift[+]™ technology
ROCCAT's breakthrough Easy-Shift[+]™ technology means each button has more winning-edge value with a secondary programmable function, for a wide array of battle possibilities. Intuitive and easy to program, with options for simple commands or complex macros, Easy-Shift[+]™ expands your arsenal, letting you react both rapidly and efficiently in the heat of the battle.
Combine devices with ROCCAT® Talk®
ROCCAT® Talk® lets your compatible ROCCAT® gaming devices join forces. ROCCAT® Talk® lets you take advantage of our exclusive Easy-Shift[+]™ technology like never before. Now you can use the Easy-Shift[+]™ key on your Isku+ to activate macros for both the keyboard and mouse; a one-stop short-cut that makes giving orders quick, easy, and effective.
Get your thumbs into the fight
Are all your digits in? Now you can give your thumbs something useful to do. Our ROCCAT® designers and engineers put three individually-programmable thumbster macro keys right below the Isku's spacebar, each easily activated with a strike of the thumb.
ROCCAT® Swarm
Swarm is the software incarnation of ROCCAT's future ready philosophy. It'll cover you for all relevant gaming platforms and devices. It's the next-gen system that keeps on top all games, apps and ROCCAT products in one place. It provides next-level product integration, working as a unified driver suite with an overview of all of your ROCCAT devices. Say goodbye to multiple tray icons - with Swarm you have a veritable gaming command HQ for every weapon in your arsenal.