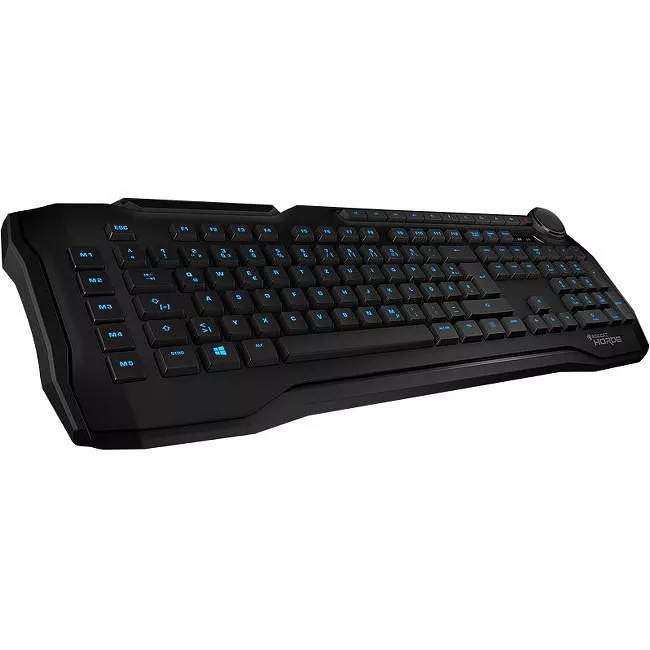 MPN: ROC-12-301-BK
ROCCAT ROC-12-301-BK Horde - Membranical Gaming Keyboard
The Horde is the keyboard that executes the gaming essentials to absolute perfection. Inspired by the innovator tradition of its Isku forefather, the Horde's game-changing ace in the hole is Membranical key technology which brings mechanical technology to membrane for the first time ever. Its keys feature a fingertip design to enhance distinction and key stroke accuracy, and an island layout takes it a step further by eliminating accidental miss-hits while also resisting long-term dirt buildup. Quick-fire macro keys, a ROCCAT blue lighting system plus a configurale Tuning Wheel and keys make the Horde the silent hunter - the keyboard you should underestimate at your peril.
MEMBRANICAL KEYS
Membranical represents the perfect compromise between membrane and mechanical. Its fast midway travel actuation point provides the most precise and responsive key stroke ever, with a fast yet silent typing feel. An island layout resists dirt for refined, low-maintenance gaming, and mid-height keys with a precision fingertip design vastly improve key distinction.

ACTUATION SPEED:
Horde macro keys: 5.0ms
Horde Membranical keys: 7.8ms
Standard membrane keyboard: 9.0ms
TUNING WHEEL AND KEYS
The Tuning Wheel and keys provide fast and intuitive control for multimedia, illumination, brightness, dpi, volume and more, and can be customized completely to suit each gamer. Rotating freely through 360° with precise, tactile steps, the tuning wheel provides on-the-fly command power with accuracy. The Tuning Wheel is also fully compatible with Windows 10 Dial functionality, making the Horde the first keyboard in the market with this feature.
ROCCAT® LIGHTING SYSTEM
ROCCAT's iconic blue color comes to life with the Horde's vivid illumination system. Thanks to Swarm, the lighting engine is customizable and enables you to configure visual effects as well as the brightness of the illumination. The lighting can also be modified on the fly using the unique tuning wheel and keys. Design your own signature lighting style with ROCCAT's signature color.
QUICK-FIRE MACRO KEYS
A column of five tuned, low-profile macro keys skirt the Horde's main key zone, perfectly positioned on the left for rapid and intuitive execution. The distinctive lower height of the keys ensures they're immediately identified when fingers are run over them, preventing accidental miss-hits. They are actuated even faster than the main keys, for quick-fire control.
IMPROVED ANTI-GHOSTING
An advanced algorithm developed by ROCCAT® engineers features the latest in key-mapping technology to provide an anti-ghosting solution like none before it. It ensures you can press as many keys as you want in the gaming key area and every single key stroke will be registered, without fail. No matter how many actions you can perform per minute, the Horde can keep up.
ROCCAT® SWARM
Swarm is the software incarnation of ROCCAT's future ready philosophy. It'll cover you for all relevant gaming platforms and devices. It's the next-gen system that keeps on top all games, apps and ROCCAT® products in one place. It provides next-level product integration, working as a unified driver suite with an overview of all of your ROCCAT® devices. Say goodbye to multiple tray icons - with Swarm you have a veritable gaming command HQ for every weapon in your arsenal.