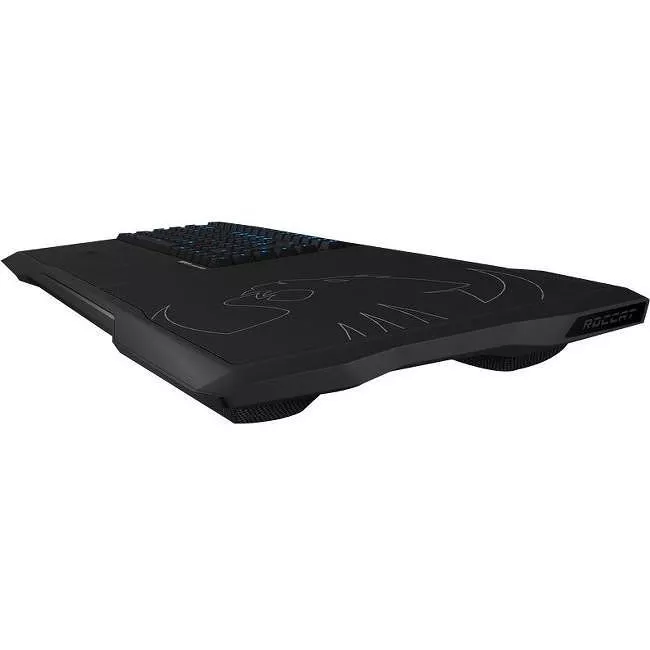 MPN: ROC-12-181-BN
ROCCAT ROC-12-181-BN Sova - Gaming Lapboard
The new era in PC gaming has begun. The ROCCAT Sova Gaming Board has finally arrived.

For decades the living room has been the near exclusive domain of console gaming. Millions have enjoyed playing on the couch, experiencing the casual ease of plug-and-play fun that comes with it. While smaller PCs and various streaming technologies have cracked the door slightly over the years, Sova kicks that door wide open.

Truly bridging the gap between desk-and-chair PC gaming and living room play, Sova provides the vital key ingredient every PC gamer has lacked who wants to experience their favorite games from the comfort of a couch or chair via PC, Steam machine, or streaming device.

You already own everything you need to get started - all that's left to add is the Sova.

COMFORT TESTED GAMING

The ROCCAT Sova Gaming Board is the pinnacle of comfort, field tested with hundreds of hours of play specifically to accommodate couch gaming. Everything from the highly ergonomic shape built from a durable fiber/plastic blend, the cushioned underside parts, to the perfectly placed wrist-rest ensure that everything from a single game to marathon play feels exactly the same - effortless. The Sova was designed from the ground up to replace the desk and make a lap-and-couch combo the perfect match.

YOUR KEYBOARD, YOUR CHOICE

Coming in both mechanical and membrane keyboard varieties, the Sova provides the precise feel for every player's preference, with the same key backlighting fans of ROCCAT know and love. But there is so much more.

A SUPER-CUSTOMIZABLE EXPERIENCE

Choose your favorite gaming mouse (ROCCAT or otherwise) to utilize on the Sova's large, exchangeable built-in mousepad. The convenient mouse cable channel ensures you'll never have to contend with tangles. Two USB ports mean you can connect, use and charge additional
devices, use your favorite headset and more. Pick and choose between different mousepad and wrist-rest materials, and customize your colors to truly put your signature on your Sova. Finally, with 3D printable options on the table, you can truly create a Sova experience that is completely unique to your needs.

THE EASE OF SOVA GAMING

The Sova is plug-and-play simple. Be it via your Steam Box setup or standard PC, the Sova integrates flawlessly into a living room play experience that allows you to turn your television, favorite armchair, beanbag or couch into an interconnected gaming environment.

POWER UNDER THE HOOD

ROCCAT's most popular software features reside under the hood of Sova, making it not only comfortable, convenient and customizable, but powerful. And all of this is controlled by ROCCAT's innovative Swarm technology, which unifies all of your ROCCAT products and technology in one simple to interface with location. With lightning-fast access to system commands, vital game functions and so much more, gamin in the living room with Sova means always having an edge, all while owning the couch.