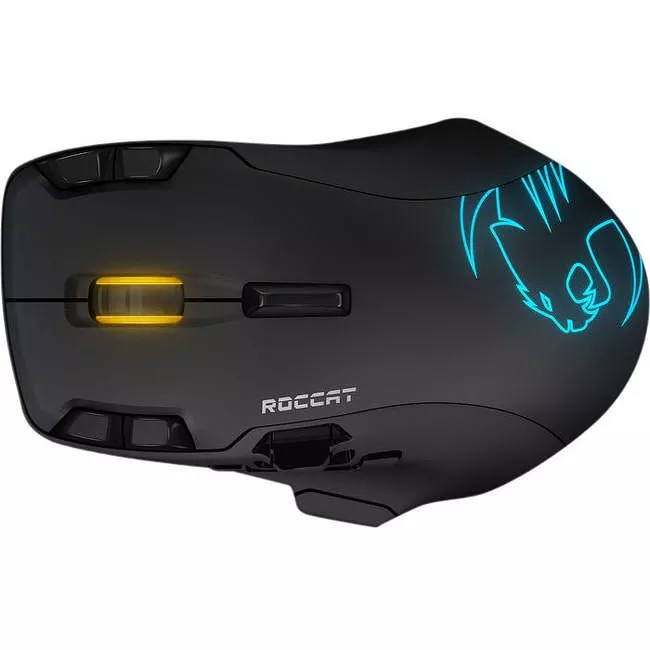 MPN: ROC-11-852
ROCCAT ROC-11-852 Leadr Mouse
ROCCAT® Leadr - Wireless Multi-button RGB Gaming Mouse
The Leadr gives you the freedom of wireless with the performance of wired. It rocks a combo of pioneering wireless technology and an optimized Owl-Eye optical sensor, meaning gaming with a wireless mouse is no longer a handicap. Zero lag and with virtually zero latency, it features a docking station with a top-cup cable for use as a wired mouse, plus an innovative suite of buttons for enhanced control. The Leadr is the wired mouse with no wires, making it wireless royalty.
Wireless without compromise
What sets the Leadr apart from its competitors is its pioneering wireless technology. Leadr was developed with a view to providing gamers with a wireless mouse that performed just as well as a wired one. With 1000Hz polling and 2.4GHz data transmission - faster than USB - it boasts zero lag and virtually latency, for lightning-fast input. This technology is complemented by the pioneering ROCCAT® Owl-Eye optical sensor, which is optimized for wireless. Other wireless mice make sacrifices by using power-saving modes but Owl-Eye uses full power all the time, bringing the feeling of wired to wireless.
Charging dock plus top-up cable
In your hands it's a lethal gaming weapon, but a weapon is only as good as the holster holding it. With a premium docking stand featuring charging and battery status LEDs, the Leadr is ready, primed and at your side for all your gaming sessions. Your 20-hour battery is running low or you just want to use the mouse in wired mode? Connect the top-up cable to carry on gaming. Freedom without compromise.
Next-gen button layout
Designed for the latest generation of games, the Leadr features 14 fully-programmable mouse buttons plus a solid 2D Titan Wheel. Front and center of its arsenal is the X-Celerator single-axis analog thumb paddle, for enhanced functionality while maintaining perfect mouse control. Also featured is the mid-knuckle Fin Switch, for rapid and instinctive control.
Your Leadr, your style
Fully customize the look of your Leadr with new industry-standard RGB lighting illumination system. Adjust the color of your scroll wheel and ROCCAT® logo independently of one other for your own unique look. With a variety of enhanced lighting effects to choose from and your choice of 16.8 million colors, the Leadr melds on every level to your style.
ROCCAT® Owl-Eye optical sensor
Owl-Eye is the exciting new optical sensor from PixArt, modified to the high and exacting standards of ROCCAT®. Taking its inspiration from the natural world, it boasts a real and responsive feeling that's instantly recognizable. The sensor can be configured in terms of the ROCCAT®-pioneered Distance Control Unit (DCU), with the dpi adjustable in 100-dpi steps from 100 to 12000, although we recommend a 400 - 3000dpi range as optimal.
ROCCAT® Swarm
Swarm is the software incarnation of ROCCAT's future ready philosophy. It'll cover you for all relevant gaming platforms and devices. It's the next-gen system that keeps on top all games, apps and ROCCAT products in one place. It provides next-level product integration, working as a unified driver suite with an overview of all of your ROCCAT devices. Say goodbye to multiple tray icons - with Swarm you have a veritable gaming command HQ for every weapon in your arsenal.