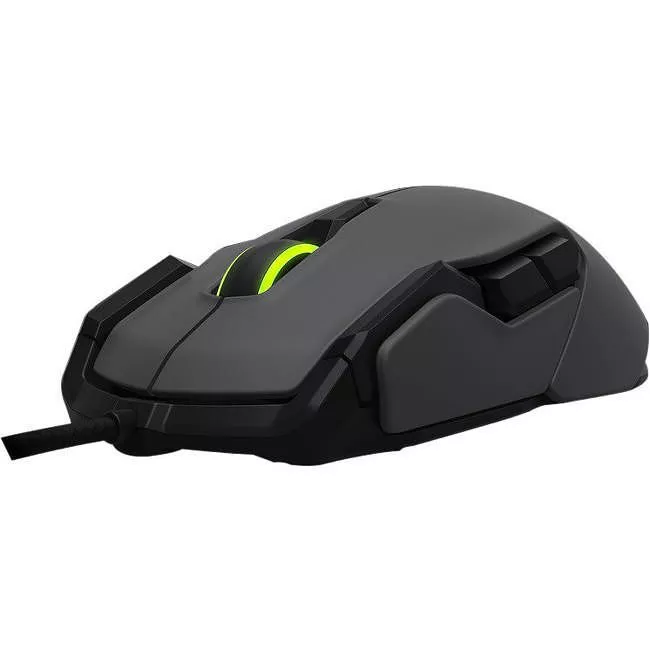 MPN: ROC-11-502-AM
ROCCAT ROC-11-502-AM Kova - Pure Performance Gaming Mouse
Raw performance in a sleek design built for pure power and speed? That's the all new Kova, forged using the legacy of its fan favorite Kova[+] predecessor as its blueprint. It's got double the button functions on a streamlined frame with fine lines and angles reminiscent of a high-end sports car. Double-powered DPI for precision gaming, finished off with a world-class illumination suite integrated into an ambidextrous-use, expertly engineered package. The new Kova is double the ROCCAT® power in the palm of your hand.

STREAMLINED SHAPE

The Kova was forged using the legacy of its predecessor as its blueprint. A strong emphasis on performance above all else has resulted in a raw design that is stripped-back yet sleek. Ambidextrous, the Kova suits left- and right-handers alike with its high-octane build. Its reflexive button layout provides a mighty arsenal of command power for hardcore gamers who take a serious approach to gaming - for truly unstoppable results.

BEHIND THE SCENES

Overdrive mode is what you get when you double up on an already eye-wateringly accurate mouse sensor. The Kova's pioneering overdrive mode smashes gaming standards by offering a stable dpi double-up of the remarkably precise 3500 native dpi Pro-Optic R6 sensor. This results in an effective dpi of 7000, with maximum stability provided by the Kova's advanced and powerful Turbo Core V2 32-bit ARM-based MCU.

LIGHT UP YOUR KOVA

The Kova's vivid RGB lighting illumination system lets you fully customize the look of your mouse. Create your own unique style by configuring the color of your scroll wheel and mouse rim independently of each other. An arsenal of advanced lighting effects to choose from and your choice of 16.8 million colors means you can tailor the look of your Kova in a way that's totally exclusive to you.

ROCCAT® SWARM

Swarm is the software incarnation of ROCCAT's future ready philosophy. It'll cover you for all relevant gaming platforms and devices. It's the next-gen system that keeps on top all games, apps and ROCCAT products in one place. It provides next-level product integration, working as a unified driver suite with an overview of all of your ROCCAT devices. Say goodbye to multiple tray icons - with Swarm you have a veritable gaming command HQ for every weapon in your arsenal.