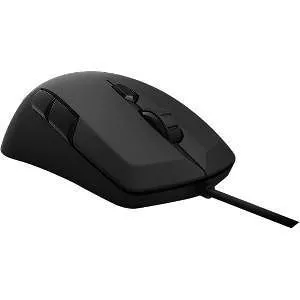 MPN: ROC-11-320-AM
ROCCAT ROC-11-320-AM Kiro - Modular Ambidextrous Gaming Mouse
Meet the Kiro, the bigger brother of the Lua. With its highly modular, superdextrous build, the game has been changed for ambidextrous mice. Perfectly optimizable for both left- and right-handed gamers out of the box, it ticks all the boxes for gamers who thrive on a highly functional mouse with a clean, ergonomic design. With no-sweat parts comprised of a ROCCAT-pioneered soft-touch surface, the Kiro is the flexible ergonomic mouse that lets you win your way.

SUPERDEXTROUS BUILD

Kiro features an advanced, highly modular build that lets you change the handedness of the mouse right out of the box. Its ergonomic, functional design comes complete with a catalog of four durable sideparts, including both buttons and blanks, so you can customize your layout rapidly and get in the game right away. Stay tuned for 3D print support that'll provide an even greater level of customization. Coming soon!

PREMIUM COMPONENTS

In spite of its relatively small size, the Kiro has a strong focus on functionality and is loaded with a build sporting only the best possible components, for a premium gaming experience. Make no mistake, the Kiro's attention to detail puts it on another level. OMRON switches, a robust 2D Titan Wheel plus a unique soft-touch surface that nullifies palm and finger sweat provides a platform for solid and reliable, high-comfort gaming.

UNDER THE HOOD

Overdrive mode is what you get when you double up on an already eye-wateringly accurate mouse sensor. The Kiro's pioneering overdrive mode smashes gaming standards by offering a stable dpi double-up of the remarkably precise 2000 native dpi Pro-Optic R2 sensor. This results in an effective dpi of 4000, with maximum stability provided by the Kiro's advanced and powerful Turbo Core V2 32-bit ARM-based MCU.

CUSTOMIZABLE ILLUMINATION

Proudly flying the ROCCAT flag high, the Kiro features vibrant logo illumination customizable in a brilliant 16.8 million discrete colors. Complemented by a variety of active effects and color patterns which can easily be configured in the Swarm driver, you can turn your Kiro into your own signature gaming weapon!

ROCCAT® SWARM

Swarm is the software incarnation of ROCCAT's future ready philosophy. It'll cover you for all relevant gaming platforms and devices. It's the next-gen system that keeps on top all games, apps and ROCCAT products in one place. It provides next-level product integration, working as a unified driver suite with an overview of all of your ROCCAT devices. Say goodbye to multiple tray icons - with Swarm you have a veritable gaming command HQ for every weapon in your arsenal.