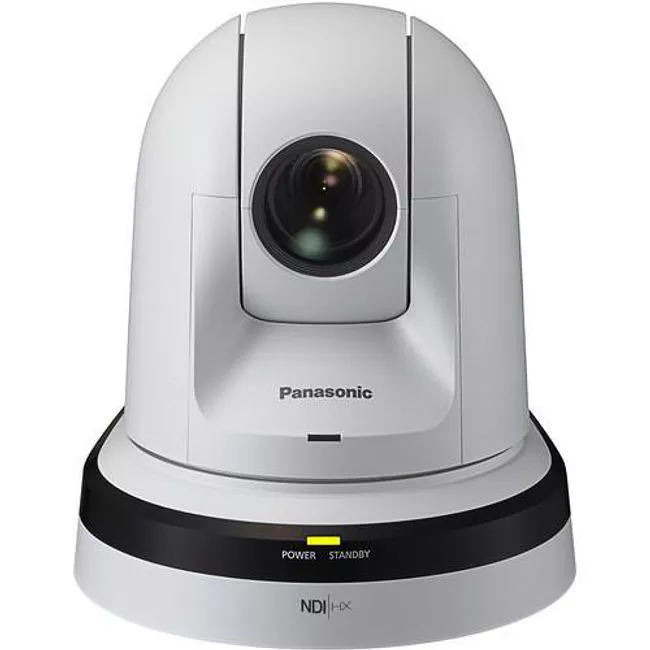 MPN: AW-HN40HWPJ
Panasonic AW-HN40HWPJ 30x Zoom PTZ Camera with HDMI Output and NDI - White
The AW-HN40 pan/tilt/zoom camera incorporates newly-developed 1/2.3-type full HD MOS sensors and Digital Signal Processors (DSP) for high sensitivity, high resolution and superior video capture in a wide range of shooting conditions.
Key features
1/2.3-Type MOS
30x Optical Zoom
IP Connectivity for web interface and control plus PoE+ support for single cable power, streaming and camera control
HDMI Video Output, in addition to USB and microSD card built-in recording
NDI®|HX - PoE+ for Power, Ultra Low Latency Audio/Video, Tally & Control via a Single Cable
Enter the World of P.T.Z.
The AW-HN40 camera is designed to produce great results in a variety of applications that require high-quality video and precise control-such as conference video, event capture, staging, distance learning and houses-of-worship. Thanks to their precision 30X optical zoom lenses, wide field of view, smooth PTZ functions and exceptional image quality, HN40 cameras are ideal for demanding remote production and IMAG use. With IP-Preview transmission and control, and support for PoE+ (which allows power to be supplied via a LAN cable), the HN40 also offers the flexibility needed for easy installation and management.
It's All in the Optics
In addition to a 30x optical zoom, the HN40 also features intelligent zoom up to 40x and a 1.4x digital extender to capture crisp close-ups even in large auditoriums and lecture halls. The HN40 delivers an impressive signal-to-noise ratio of 54dB (F4/2000lx, minimum illumination, .35 lx), 1000 TV lines of resolution and 16-axis color matrix control for precise camera painting and matching. The HN40 already includes many innovative standard features developed to expand the capabilities of professional video system users. In addition to Panasonic's Dynamic Range Stretch (DRS) and advanced Digital Noise Reduction (DNR), an ingenious High Dynamic Range (HDR) mode helps to produce very good video even in extreme contrast and lighting conditions.
See in the Dark
For shooting in virtually total darkness, the HN40's Night Mode makes it possible to automatically switch to the capture of high-quality, HD monochrome video with the use of an (optional) IR illuminator in the 850nm range, making the camera ideal for reality show production, sleep lab research and staging support.
Versatile, Smooth & Lightweight
The pan range of ±175° and the tilt range of -30° to +90° cover a wide shooting area. Pan and tilt operate at a maximum speed of 90°/second and respond quickly to remote control operation. They operate quietly at a sound level of NC35 or lower. Up to 100 preset positions and camera settings are stored in the camera, more than enough for the most demanding large venue installation. The camera weighs only 3.3 lbs. and consumes just over 14.4 watts at 12 VDC.
Connected - Professional Interfacing for all sorts of remote production
Video Outputs: Standard professional interfaces include HDMI, as well as IP/Network for single cable delivery of high-quality content up to 1080/60p.
Audio Input: Audio input and embedding (on IP, HDMI) are also available via a switchable, stereo MIC/LINE input.
Serial Control: RS-422 serial compatibility is available for serial-based control workflows (i.e. connection to AW-RP50/120 or previous controllers). RS-232 and RS-422 VISCA protocol is available when introducing a Panasonic camera into an existing control structure.