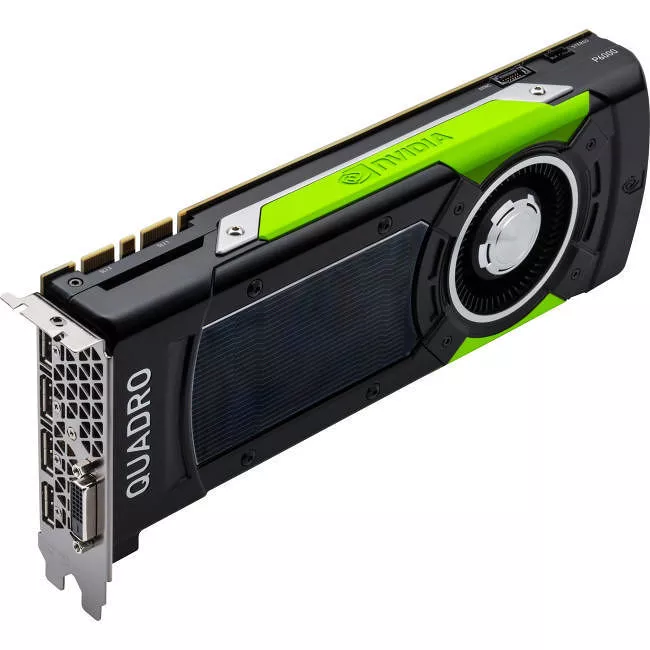 MPN: VCQP6000-PB
PNY NVIDIA Quadro P6000 Graphic Card - 24 GB GDDR5 - Dual Slot - VCQP6000-PB
The World's Most Powerful Workstation Graphics Card
The NVIDIA Quadro P6000 is the world's most advanced professional graphics solution ever created, combining the latest GPU, memory and display technologies that result in unprecedented performance and breakthrough capabilities. Professionals across of range of industries can now create their most complex designs, solve the most challenging visualization problems and experience their creations within the most detailed, life-like VR environments.

Quadro cards are certified with a broad range of sophisticated professional applications, tested by leading workstation manufacturers, and backed by a global team of support specialists. This gives you the peace of mind to focus on doing your best work. Whether you're developing revolutionary products or telling spectacularly vivid visual stories, Quadro gives you the performance to do it brilliantly.
Pascal GPU Architecture
Based on state-of-the-art 16nm FinFET Plus process technology to pack 3840 CUDA Cores and deliver up to 12.0 TFLOPS of single precision compute power. The Quadro P6000 graphics board is the industry's most powerful dual-slot form factor graphics-optimized board, with features tailored for computationally demanding FP32 single precision design visualization or immersive design reviews. Get real interactive expression with today's demanding professional workflows.
NVIDIA CUDA Parallel Computing Platform
Natively execute standard programming languages like C/C++ and Fortran, and APIs such as OpenCL, OpenACC and Direct Compute to accelerates techniques such as ray tracing, video and image processing, and computation fluid dynamics.
NVIDIA Quadro Sync II
Synchronize the display and image output of up to 32 displays from 8 GPUs (connected through two Sync II boards) in a single workstation, reducing the number of machines needed to create an advanced video visualization environment. Each frame lock cable is designed with a self-locking retention mechanism to secure its connection with the frame lock connector to provide robust connectivity and maximum productivity. P6000 + Quadro Sync II turnkey bundles are available.
Available Accessories
NVIDIA SLI Bridge Kit (HBSLIBRIDGE-2W2S-KIT / HBSLIBRIDGE-2W3S-KIT) leverages multiple GPUs to dynamically scale graphics performance, enhance image quality, expand display real estate. Order PNY Part Number HBSLIBRIDGE-2W2S-KIT or HBSLIBRIDGE-2W3S-KIT depending on motherboard PCIe slot spacing.

DisplayPort to HDMI Four Pack (DP-HDMI-FOUR-PCK)Connect the Quadro P6000 to HDMI displays at resolutions up to 4K with PNY Part Number DP-HDMI-THREE-PCK. The four included DisplayPort to HDMI adapters are recommended by NVIDIA, provide outstanding image quality, and are built to professional standards.

DisplayPort to HDMI Single Pack (DP-HDMI-SINGLE-PCK) Connect the Quadro P6000 to an HDMI display at resolutions up to 4K with PNY Part Number DP-HDMI-SINGLE-PCK. The included DisplayPort to HDMI adapter is recommended by NVIDIA, provides outstanding image quality, and is built to professional standards.

NVIDIA Quadro SYNC II (VCQPSYNC2-KIT) enable the creation of dazzling ultra-high resolution, perfectly synchronized displays to meet the visualization and presentation needs across industries. Designed for flexibility and scalability, Quadro Sync boards connect to select NVIDIA Quadro GPUs, synchronizing them with the displays or projectors attached to them. Quadro Sync also enables NVIDIA Quadro Mosaic™ technology on those synchronized displays and projectors, providing an easy way to scale the resolution of any application.