PNY VCQM4000SYNC-PB Quadro M4000 Graphic Card - 8 GB GDDR5 + Quadro Sync (Turnkey Kit)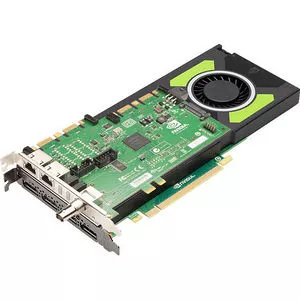 Highlights
Standard Memory: 8 GB
Cooler Type: Fan Cooler
Product Type: Graphic Card
Condition: New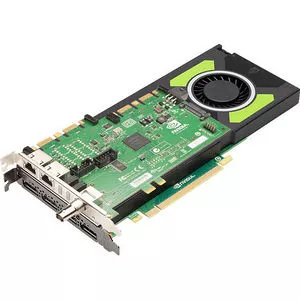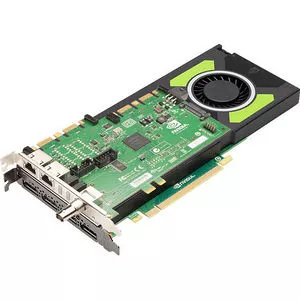 PNY VCQM4000SYNC-PB Quadro M4000 Graphic Card - 8 GB GDDR5 + Quadro Sync (Turnkey Kit)
Highlights
Standard Memory: 8 GB
Cooler Type: Fan Cooler
Product Type: Graphic Card
Condition: New
NVIDIA Quadro M4000 with NVIDIA Quadro Sync-Ideal for Extreme Performance Single-Slot Form Factor Visualization Environments
Get real interactive expression with NVIDIA Quadro-the world's most powerful workstation graphics. Tackle your most demanding visualization workloads with ease using the advanced NVIDIA Maxwell™ GPU architecture and the flexibility of a single-slot form factor. 8 GB of ultra-fast memory enables the creation and rendering of large, complex models and the computation of massive datasets. A new display engine drives up to four 4K resolutions displays natively (4096 x 2160 at 60 Hz with 30-bit color), or pair up two or more outputs to drive displays greater than 4K.
The NVIDIA Quadro Sync board included as part of this turnkey solution synchronizes up to four NVIDIA Maxwell architecture-based GPUs and up to 16 displays or projectors per system. Quadro Sync benefits include the ability to keep multi-projector systems or video walls free of imaging artifacts without impacting performance, the ability to align inputs for multi-input display devices like 4K projectors or panels, proper stereoscopic 3D display across multiple systems, and the ability to align displays or projectors to an external timing source. NVIDIA Mosaic™ technology support allows any application to scale across synchronized displays or projectors and offers features like projector overlap and an integrated geometry and intensity adjustment to enable pixel-accurate display surfaces.
Designed and built specifically for professional workstations, NVIDIA Quadro GPUs power more than 200 professional applications across a broad range of industries including manufacturing, media and entertainment, sciences, and energy. Professionals trust them to realize their most ambitious visions- whether its product design, visualization and simulation, or spectacular visual storytelling-and get results to market faster.