NVIDIA 900-2G150-0040-000 Quadro RTX 6000 24 GB GDDR6 PCIe3.0 Graphics Card- Passive Cooling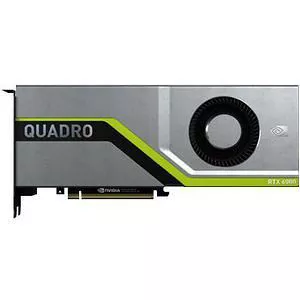 Highlights
Standard Memory: 24 GB
Cooler Type: Passive
Product Type: Graphic Card
Condition: New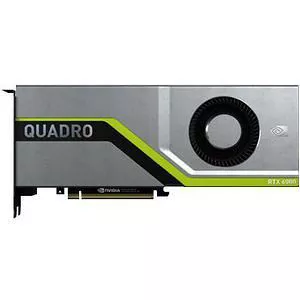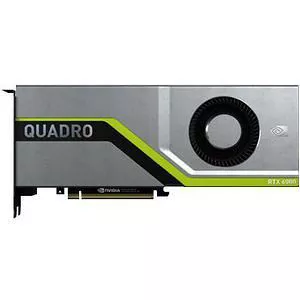 NVIDIA 900-2G150-0040-000 Quadro RTX 6000 24 GB GDDR6 PCIe3.0 Graphics Card- Passive Cooling
Highlights
Standard Memory: 24 GB
Cooler Type: Passive
Product Type: Graphic Card
Condition: New
QUADRO POWERED SERVERS

Bring the power of RTX to the data center with the NVIDIA Quadro RTX™ 6000, built on the NVIDIA Turing™ architecture and the NVIDIA RTX™ platform for powerful server-based visual computing solutions. Equipped with 4,608 CUDA® cores, 576 Tensor Cores, 72 RT Cores, and 24 gigabytes (GB) of high-performance graphics memory, the NVIDIA Quadro RTX 6000 delivers incredible performance for demanding server-based visual computing tasks. Accelerate multiple data center workloads including rendering, data science, virtual workstation, simulation, and augmented or virtual reality over 5G networks. Professionals can even serve multiple powerful virtual workstations with NVIDIA Quadro Virtual Data Center Workstations (Quadro vDWS) software. Connect two RTX 6000s with NVIDIA® NVLink™ to scale up to 48 GB of combined GPU memory and performance for even larger workloads.

The RTX 6000 is optimized for reliability in enterprise data centers and built for 24/7 server environments. It features a passive thermal solution to fit into a variety of servers. Tackle graphics-intensive mixed workloads such as batch rendering, virtualization, data science, simulation, and scientific visualization , all powered by NVIDIA RTX.