NETGEAR R7800-100NAS Nighthawk X4S R7800 - IEEE 802.11ac Ethernet Wireless Gaming Router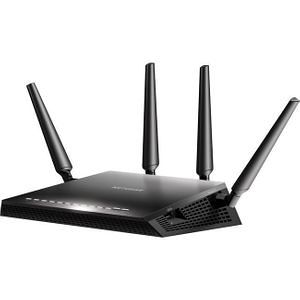 Highlights
Product Type: Wireless Router
Broadband Transmission Technology: Ethernet
Wireless LAN Standard: IEEE 802.11ac
Ethernet Technology: Gigabit Ethernet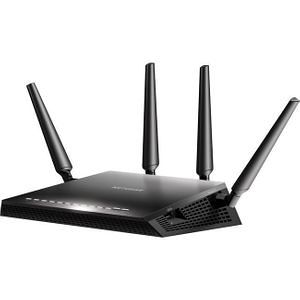 NETGEAR R7800-100NAS Nighthawk X4S R7800 - IEEE 802.11ac Ethernet Wireless Gaming Router
Highlights
Product Type: Wireless Router
Broadband Transmission Technology: Ethernet
Wireless LAN Standard: IEEE 802.11ac
Ethernet Technology: Gigabit Ethernet
Advanced Gaming & Streaming
Nighthawk® X4S AC2600 Smart WiFi Router with 160MHz, MU-MIMO and Quad Stream technology delivers WiFi to multiple devices simultaneously for faster speeds. Stream 4K content in pristine quality with the highest possible 160MHz bandwidth. Enjoy ultimate WiFi speeds up to 2.53Gbps, a powerful 1.7GHz dual core processor, and Dynamic QoS, delivering smoother streaming and gaming by prioritizing applications and devices.

Step up your WiFi
Bring your network up to Nighthawk speeds, with NETGEAR Nighthawk X4S, delivering combined speeds up 2.53Gbps.

Nighthawk X4S
Learn more about Nighthawk X4S, with 160MHz, MU-MIMO and Quad Stream technology.
Get ultimate WiFi speeds-up to 2.53Gbps (800+1733 Mbps)
Quad-Stream technology delivers WiFi to multiple devices simultaneously for faster speeds
Next generation Wave2 WiFi-160MHz, MU-MIMO, Quad-stream
Four high-performance external antennas deliver maximum range
Dynamic QoS prioritizes network traffic by application and device
Powerful 1.7GHz dual-core processor boosts performance for gaming and streaming
Beamforming+ improves wireless range and reliability
Twin USB 3.0 and eSATA ports offer high-speed, USB storage-ready access
Easily manage your home network with the NETGEAR genie app
Multi-User MIMO (MU-MIMO)
Traditional WiFi routers can stream data to only one device in the home at a time. When multiple devices are connected to the router, each device needs to take its turn, and then wait before receiving more data. This can lead to slower network and Internet speeds. Using Multi-User MIMO technology, NETGEAR routers can stream data to multiple devices simultaneously. With MU-MIMO, your WiFi network can deliver faster throughput to every MU-MIMO connected device. That means faster downloads and smoother streaming for your devices.
Quad-Stream X4 Architecture
Quad-stream Wave 2 WiFi, the industry's latest WiFi technology, means the X4S supports up to four data streams in each WiFi band, maximizing connection speeds for faster gaming and smoother HD video streaming with greater clarity and less buffering.
Dynamic Quality of Service (QoS)
If you like gaming and streaming videos, then you can benefit from Dynamic Quality of Service (QoS). Dynamic QoS automatically prioritizes bandwidth to latency sensitive applications like online gaming and video streaming by recognizing application and device information as well as bandwidth needs. Dynamic QoS will also ensure that lower priority applications like file downloads will never get completely stopped.

Powerful Dual-Core 1.7GHz Processor
Basic WiFi routers use simple single-core processors to connect WiFi devices to the Internet. Nighthawk X4S delivers simultaneous dual band WiFi, Quad-Stream performance on each band, Multi-User MIMO, 160MHz, has 5 Gigabit LAN ports, as well as one eSATA and dual USB 3.0 interfaces to connect external USB storage. Using a single-core processor would cause severe performance issues as various processes compete for CPU Power. That's why the X4S utilizes a powerful 1.7GHz dual-core processor to separate processes and prioritize high-performance WiFi connections.