NETGEAR N450-100NAS N450 IEEE 802.11n Cable Modem/Wireless Router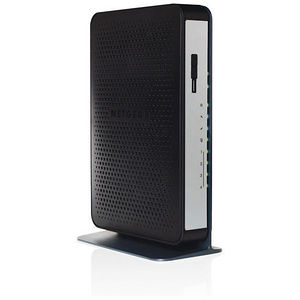 Highlights
Product Type: Modem/Wireless Router
Broadband Transmission Technology: Cable
Wireless LAN Standard: IEEE 802.11n
Ethernet Technology: Gigabit Ethernet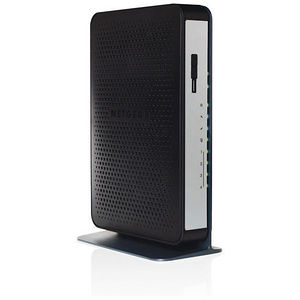 NETGEAR N450-100NAS N450 IEEE 802.11n Cable Modem/Wireless Router
Highlights
Product Type: Modem/Wireless Router
Broadband Transmission Technology: Cable
Wireless LAN Standard: IEEE 802.11n
Ethernet Technology: Gigabit Ethernet
Faster Internet. Better WiFi. One Device.
Take advantage of the new, higher speeds cable providers are offering-without taking on their cable modem rental fees. This 2-in-1 WiFi router and DOCSIS 3.0 cable modem unleashes 8x faster download speeds-up to 340 Mbps-faster, smoother WiFi, and works with all major cable Internet providers.
8x faster cable Internet download speeds, up to 340 Mbps
Cable Labs Certified DOCSIS 3.0 Modem
Faster WiFi Speeds - N450 WiFi
Compatible with major cable Internet providers
USB ports to wirelessly share your hard drive
Eliminates modem rental fees from cable provider
Fast self-activation for XFINITY customers-Get connected without a service call
Speed
With the DOCSIS 3.0 platform, you're finally geared up for the latest, fastest speeds cable providers are bringing to the home. Combined with outstanding WiFi range and performance, the 2-in-1 N450 Cable Modem Router takes your connected home to the next high-speed level, providing smooth HD streaming, uninterrupted online gaming, and fast, reliable internet for all the devices in your home.
FASTER WIFI-Up to 450 Mbps
CHANNEL BONDING-Fastest cable Internet speeds during peak hours
DOCSIS 3.0-Up to 8x faster cable Internet speeds than DOCSIS 2.0
GIGIABIT WIRED-Ideal for HD gaming and video
WiFi Range
Upstairs, downstairs, in the kitchen, in the office, even in the garage. At NETGEAR, we know you want and need great WiFi in every room of the house. The N450 Cable Modem Router delivers-with enhanced range powerful enough for medium to large homes.
RANGE-For medium to large homes
Sharing
Easily add USB hard drives via the USB ports and then wirelessly access them. With the N450 WiFi Cable Modem Router, sharing across your network is quick, easy, and perfectly designed for your media-rich world.
WIRELESS-N-Email, chat, surf, music, video
USB ACCESS-Wirelessly access & share USB hard drives via USB ports
Ease of Use
Out of the box, the N450 sets up in minutes. Connect a few cables, plug it in, and make a few clicks to connect WiFi devices. It's that easy, that fast. And management of your network is just as simple, whether it's sharing media, accessing hard drive, or setting up guest access.
EASY INSTALL-Easy setup for iPad®, tablets, smartphones and computers
WIFI & POWER ON/OFF-Convenient power savings
PUSH 'N' CONNECT-Easy push button WiFi connections (WPS)
Security
NETGEAR keeps your home network secure with high-level security features to prevent phishing & spyware.
SECURE WIFI CONNECTIONS-Highest level wireless security with WPA/WPA2