MustHD M703S Hyper-Brite 7" LED LCD Monitor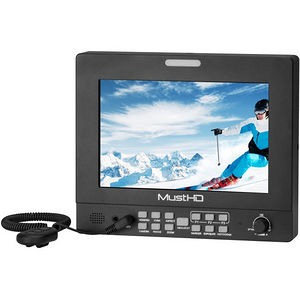 Highlights
Maximum Resolution: 1920 x 1200
Brightness: 2200 Nit
Product Type: LCD Monitor
Condition: New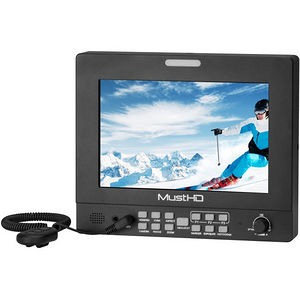 MustHD M703S Hyper-Brite 7" LED LCD Monitor
Highlights
Maximum Resolution: 1920 x 1200
Brightness: 2200 Nit
Product Type: LCD Monitor
Condition: New
This top-of-the-line, powerful, and affordable 3G-SDI M703S field monitor was designed for the professional cinematographer shooting in the field. The 7 1920x1200 Hyper-Brite™ IPS panel has an industry-leading LED backlight capable of 2200cd/m² (2,200 nits) output. The brightness of the display enables viewing in sunlight without the need for a sun hood.

The SDI and HDMI inputs can handle up to a 4K/60Hz signal and the loop-through output enables the use of external recording devices for maximum capture flexibility.

It is constructed with aluminum making it durable and fast cooling. It ensures the monitor's reliability and longevity.

Power Supply

The programmable wired 3 button remote helps make your work easier. Easily set up your most used functions and be able to access them with the push of a single button. A velcro strap allows the remote to be attached to a tripod or frame.