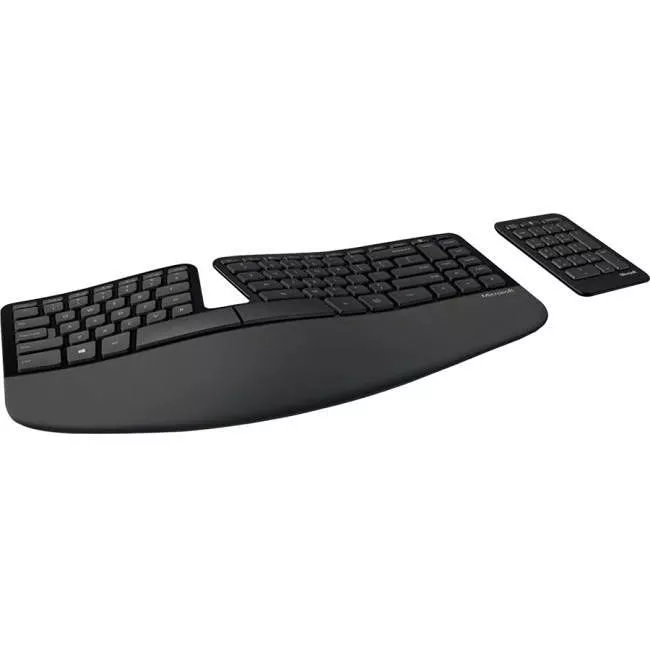 MPN: 5KV-00001
Microsoft 5KV-00001 Sculpt Ergonomic USB Keyboard
Unique design for comfort and functionality
With its modern, ergonomic design, Sculpt Ergonomic Keyboard sets the standard for support and comfort. It keeps your hands and arms in a relaxed position as you work, helping you feel refreshed after a day at your desk without soreness or injury.
Protection for your joints
Sculpt Ergonomic Keyboard is built on advanced ergonomic principles, with a split keyboard layout that keeps wrists and forearms in a relaxed position, and a cushioned palm rest that protects against inflammation and repetitive stress injuries. The domed keyboard shape works to reduce and correct excessive wrist pronation that can cause pain and limited mobility.
Following the body's natural lines
The natural arc layout follows the curve of your fingertips for a more natural way of typing. The reverse-tilt design positions the keyboard at the correct angle to give you a neutral wrist position.
Cushioned palm rest
Cushioned palm rest provides support and promotes a neutral wrist position.
Split keyset design
Split keyset design helps to position wrists and forearms in a natural, relaxed position.
Natural Arc
Natural Arc key layout mimics the curved shape of the fingertips.
Domed keyboard design
Domed keyboard design positions wrists at a natural, relaxed angle.
Separate number pad
Separate number pad provides greater flexibility for workspace setup.
Advanced Encryption Standard (AES) 128-bit encryption
This keyboard features Advanced Encryption Standard (AES*) technology, which is designed to help protect your information by encrypting your keystrokes. Each keyboard is permanently paired with its receiver at the factory-no key information is ever shared over the air.
Reverse tilt
Reverse tilt angles the keyboard to promote a straight neutral wrist position.