Loupedeck LOLDCT Loupedeck Creative Tool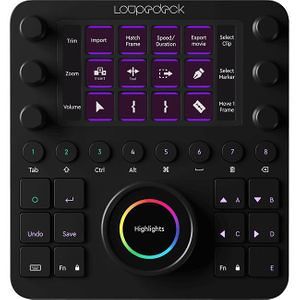 Highlights
Product Type: Video Control Surface
Condition: New
Category: Video Cards and Devices
Subcategory: Video Devices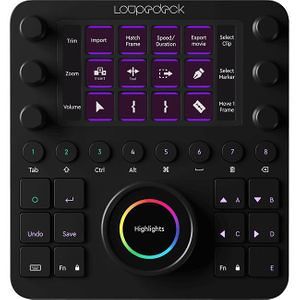 Loupedeck LOLDCT Loupedeck Creative Tool
Highlights
Product Type: Video Control Surface
Condition: New
Category: Video Cards and Devices
Subcategory: Video Devices
Meet the editing tool that's designed to enhance how you work during every part of the editing process. Loupedeck Creative Tool brings the tools you use into one powerful, precise and perfectly-designed console.
Loupedeck, the creators of the photo and video editing console Loupedeck+, is committed to providing editing solutions that meet the everyday needs of professionals. We understand how important it is to have tools that save time and boost productivity without compromising your creativity. With the ever-rising demands of professional editing, we knew it was time to design a console that is fully expandable and can adapt to any creative working environment, which resulted in - Loupedeck Creative Tool.
Loupedeck CT is designed to save you time without sacrificing creative integrity, and can be used to edit your photos, videos, music, and designs. Loupedeck CT is an addition to the Loupedeck product-lineup. When compared to its predecessor Loupedeck+, Loupedeck CT takes customization and adaptability to a whole new level.
PREMIUM BUILD.
Loupedeck CT is a professional grade editing tool, built for longevity and designed to provide a premium editing experience across all the software and editing tools you use. With its Nordic, minimalistic style, the user interface is perfectly organized for a more natural and intuitive experience. Loupedeck CT's high-quality aluminum cover and dials, touchscreens, LED backlighting and machine-quality ball bearings provide a premium haptic feel for precision control over your work. Lightweight and portable, Loupedeck CT is the perfect companion for creatives on the go, and even comes equipped with a convenient internal 8GB memory unit for you to store your presets or custom CT layouts, allowing you to edit wherever and whenever.
EASE OF USE.
Getting started with Loupedeck Creative Tool is very easy. Simply download the Loupedeck software, plug in your Loupedeck CT using its detachable USB, and select the software you wish to use. By default, Loupedeck CT comes with a set of predefined tools and functions known as workspaces, so you can get started editing in a matter of minutes.
Out of the box Loupedeck CT provides native support for:
Adobe® Lightroom® Classic
Adobe® Photoshop®
Adobe Premiere® Pro
Final Cut Pro X
Ableton Live
Adobe Illustrator®
Loupedeck CT is a content aware console, meaning it recognizes which software you're in and will display controls and workspaces accordingly. You can easily and seamlessly switch between your software and editing tools, with no interruption to your workflow. Loupedeck CT puts you in control of a variety of functionalities, including your own Operating System and browser.
USER EXPERIENCE.
We at Loupedeck understand how versatile and complex the creative editing workflow can be, which is why we made sure Loupedeck CT works in sync with your favorite software and editing tools and can be customized to match your own personal style of editing. Loupedeck CT provides a seamless experience with your software and will display the tools you use across each working environment. You can easily go from pen to brush, photo to video, or jump between software, all with one sleek console.
Loupedeck CT's premium build gives you precision control over your work. Easily make incremental edits and fine adjustments with the turn of one of CT's tactile dials or dive deeper than ever into color grading with intuitive access and control over color panels.