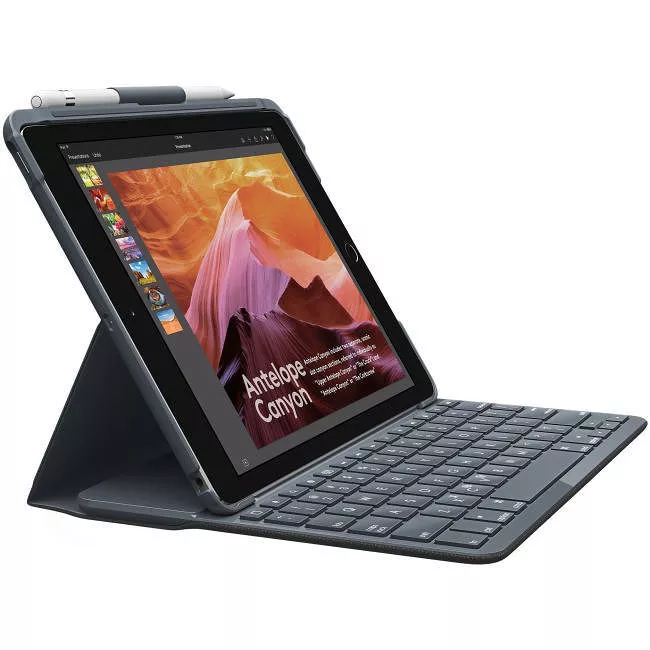 MPN: 920-009017
Logitech 920-009017 SLIM FOLIO Keyboard/Cover Case (Folio) Apple Pencil, iPad (2018), iPad (2017)
TURN YOUR IPAD INTO A LAPTOP WITH ONE CLICK
Now you can enjoy laptop-like typing anywhere you take your iPad®(5th and 6th generation) . This all-in-one case has a slim and light design that makes it easy to use and carry around, all while keeping your iPad safe from bumps, scratches, and spills. No matter where you need to get your work done-a café table, desk, or even your lap-SLIM FOLIO locks your iPad at an optimal angle for typing or viewing and holds firm on any surface.
FOR HIGH SCHOOL STUDENTS
Slim Folio is the ultimate learning tool for writing papers, typing notes, sketching idea maps, collaborating on group projects, and getting to the top of the class. Best of all, Slim Folio keeps your iPad protected on-the-go, so you can safely throw it in your backpack over and over
FOR COLLEGE STUDENTS
Get more mileage out of iPad at college. Slim Folio lets you comfortably type up papers, sketch diagrams, take remote classes, and more for hours at a time.
FOR WORK FROM HOME PROFESSIONALS
Slim Folio doesn't stop at graduation, it helps you stay productive throughout your career and it's especially great for when you're working from home. Effortlessly turn your iPad into a laptop so you can type up notes, take video calls, collaborate through virtual whiteboarding sessions, and more from anywhere in your house.
3 USE MODES
Slim Folio offers three unique modes to help you accomplish any task.
Sketch Mode: Push the screen all the way down to comfortably draw and take notes with Logitech Crayon® or Apple Pencil.
Type Mode: Just dock the keyboard in an upright position and type away.
Read Mode: Fold the keyboard back for a comfortable position to read books, articles, and more.
COMFORTABLE LAPTOP-LIKE TYPING
Enjoy hours of comfortable, flexible typing thanks to well-spaced keys stretched edge-to-edge so your hands won't feel crowded. Our premium keyboards are designed to deliver the perfect bounce every time you press a key for fast, accurate typing. With a full row of shortcut keys, you can perform your favorite iPadOS®-specific actions and optimize your productivity.
CONVENIENTLY INTEGRATED KEYBOARD
Slim Folio's keyboard is integrated into the case so it won't get lost and is always there when you're ready to type
2 ANGLES FOR TYPING, VIEWING, AND SKETCHING
In Type Mode, Slim Folio holds your iPad at a 58° angle that's great for getting work done with the keyboard. Collapse the case and Slim Folio will hold your iPad at a comfortable 10° angle that's optimal for viewing your favorite shows, handwriting notes, drawing, and more.