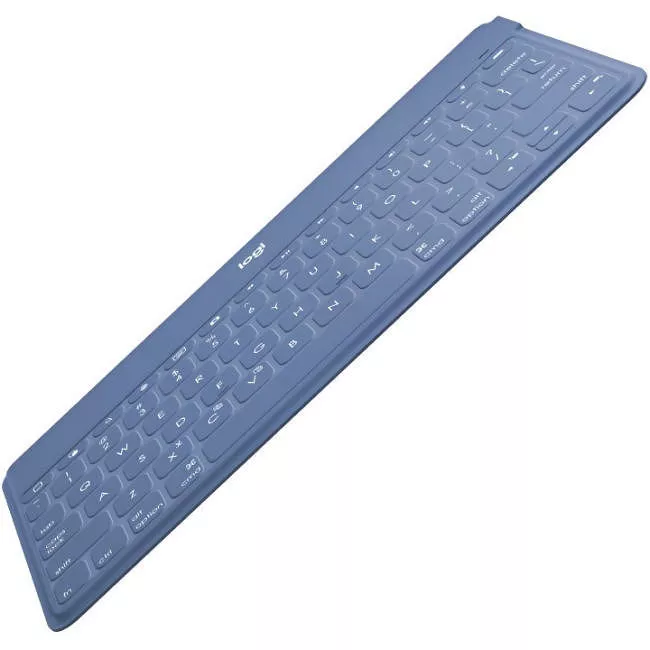 MPN: 920-008920
Logitech 920-008920 Keys-To-Go Keyboard - iPhone stand - Smoke Blue
GO TYPE ON YOUR TERMS
Part secret weapon, part cool gadget, all-out daily essential. KEYS-TO-GO is the ultra-thin, ultra-light keyboard that lets you type whenever you're ready. Team it up with your favorite phone, tablet or media center, and there's no limit to what you can do. Break free and work anywhere.
KEY FEATURES
GO PACK LIGHT AND THINK BIG

At only ¼ inch thick and 9.5 inches long, KEYS-TO-GO is the ultra-mobile keyboard you can take anywhere. It tucks in your purse or briefcase, slides into any backpack, and even fits between the pages of a magazine. It's so light you'll probably forget it's there. When you're ready, just whip it out and type like crazy.

GO PAIR WITH ALMOST ANY SCREEN

KEYS-TO-GO is super simple to connect to your iPhone®, iPad®, AppleTV® and more. It sets up in seconds with Bluetooth®, so you can seamlessly continue sending texts on your phone. Or quickly turn your tablet into a laptop and blog away at a café. It can even help you tap into all the fun of your media center without getting up from your comfy chair.

GO ELEGANT AND EFFORTLESSLY COOL

Fashion and function all in one, KEYS-TO-GO acts like wireless wearable tech. It stylishly integrates into your lifestyle so you look great whether you're working on the beach or replying to an email at a SoHo cafe. Available in vibrant colors like blush, stone, smokey blue, and black, it makes a statement. Express yourself.

GO FOR A SWEET, FAMILIAR FEEL

KEYS-TO-GO feels great to type on. Enjoy the ease and comfort of a normal keyboard layout whether you're curled up in a chair camping or on the sidelines of your kid's soccer game. You'll get great tactile feedback and perfect bounce every time you press a key-all with impressively fast and accurate results. Plus, a full row of function keys and shortcuts perform your favorite iOS-specific actions.

GO TYPE IN HUSHED TONES

KEYS-TO-GO looks like a regular keyboard but feels and sounds much different. Actually, it doesn't sound like much at all. Welcome to silent typing thanks to Logitech's magical engineering. Type quietly, take notes, send emails, or write up a storm-on your phone or tablet-all without disturbing those around you.

GO POWERED FOR THE LONG HAUL

Ideas need a home and emails need answers. Right now. KEYS-TO-GO lets you type for up to 3 months without having to recharge the battery. A battery level indicator light tells you when it's time to recharge and with the included USB charging cable, charging is easy. Super reliable and tiny-to-tote, now you can travel like a pro and skip the airport charging dock for good.

GO SPILL PROOF AND LIFE RESISTANT

Nooo! moments happen. We're ready for them. KEYS-TO-GO is wrapped in a smooth-to-the-touch, durable covering that's perfect for on-the-go travel. Its liquid-repellent secure seal protects the keyboard from spills, crumbs, and dirt. Toss it in your bag over and over (and over) again without worrying about bumps or scrapes. Wipe away messes for simple, easy clean up.

GO GIVE YOUR THUMBS A REST

Some replies demand more than 140 characters. That's when a portable wireless keyboard is essential. KEYS-TO-GO features a handy attachable stand for iPhone (or any phone) to rest in an upright, easy-to-read position. Now you can post, blog and email without uncomfortably hunching over your phone.