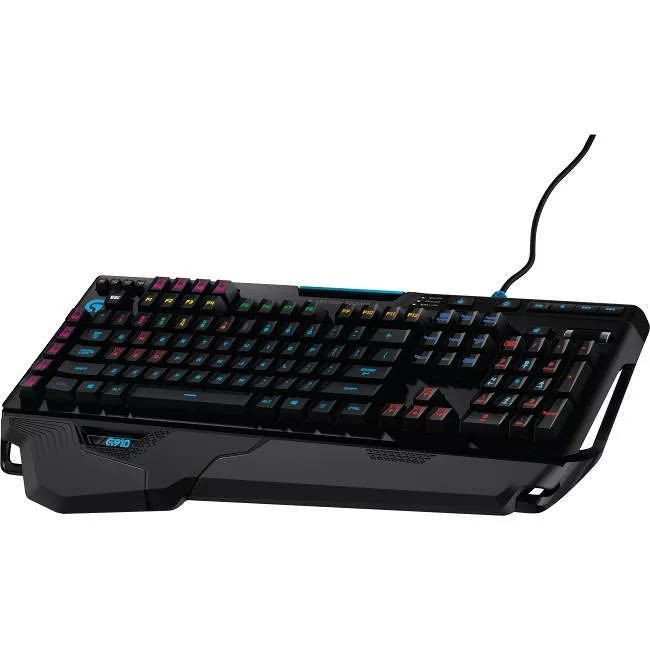 MPN: 920-006385
Logitech 920-006385 G910 Orion Spark RGB Keyboard
Exclusive Romer-G Mechanical Switches
Fast, Durable Gaming Technology
Exclusive new Romer-G™ mechanical switches make Orion Spark™ our fastest keyboard ever. With up 25 percent faster actuation you will have the edge in battles where every millisecond matters. Improved durability ensures the best gaming keyboard will weather the wear and tear of intense gaming for years to come.

Intelligent RGB Illumination
Customize With Over 16.8M Colors
Mark keys by color to keep track of spells and game commands. The keys feature customizable lighting from a palette of 16.8 million colors. Each key letter is entirely illuminated for a beautiful, evenly-lit glow.

Arx Control Integration
In-Game Stats on a Mobile Screen
Use your smart phone or tablet to display in-game info, vital system statistics and more. Arx Control app introduces second-screen capability, and the keyboard's adjustable smart dock supports iOS® and Android™ devices for greater functionality.

9 Programmable Buttons
Set Macros and Custom Commands
Customize your favorite game with 9 individually programmable G-keys. Orion Spark supports up to 27 commands across three profiles for maximum convenience. Logitech Gaming Software makes setting up commands easy.

Dedicated Media Controls
Play, Pause, Mute, Adjust
Use dedicated media controls to play, pause, and mute audio and video. The on-board roller bar adjusts the volume, or skips to the best scenes at the touch of a button.

113 Key Anti-ghosting
Reliable Control to Take Command
Reliably register inputs through even the most strenuous gaming sessions with anti-ghosting protection.

Absolute Comfort
Designed For Gaming
The keys have been designed for gamers. G-keys have been re-positioned for optimal speed and accessibility, and Orion Spark key caps have been carefully designed to help prevent mistyping. Two palm rests ensure that you are comfortable as possible.