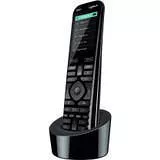 MPN: 915-000259
Logitech 915-000259 Harmony 950 Universal Remote Control
Bring your living room to life
Tap a custom activity such as Watch TV and the right devices power on and automatically switch to the right settings.
Control streaming media players like Apple TV, Roku®, and TiVo®, popular gaming consoles, as well as CD, DVD, and Bluray™ media players.
Teach Harmony 950 new IR commands from other remotes.
Works with over 270,000 compatible home entertainment devices from more than 6,000 brands.
Replaces up to fifteen remotes.
Easytouse design

Every aspect is designed to make commanding your entertainment easy.
Use motionactivated, backlit controls to find the right button every time, even in the dark.
Commonly used controls are in easy reach, just below the fullcolor touchscreen.
Change channels, adjust volume, fastforward, or rewind using gestures on the bright 2.4 touchscreen.
Keep your eyes on your entertainment, not your remote, with vibration feedback.
Use the sleep timer to fall asleep and let Harmony 950 take care of shutting down.
Power at the ready
Keep Harmony 950 charged and ready with the convenient charging station.

The replaceable battery has 20% greater capacity than previous generation Harmony remotes.

Get started in minutes
Stop using trialanderror to find remote codes. Add devices simply by entering the device model numbers and brands.
Personalize Harmony 950 with your own multidevice, onetouch Activities, up to 50 favorite channels, and frequently used commands.
Customize the dedicated media playback, cable/satellite, and DVR controls to your preferences.
Create multicommand macros
Setup can be completed using an Internet connected PC or Mac.