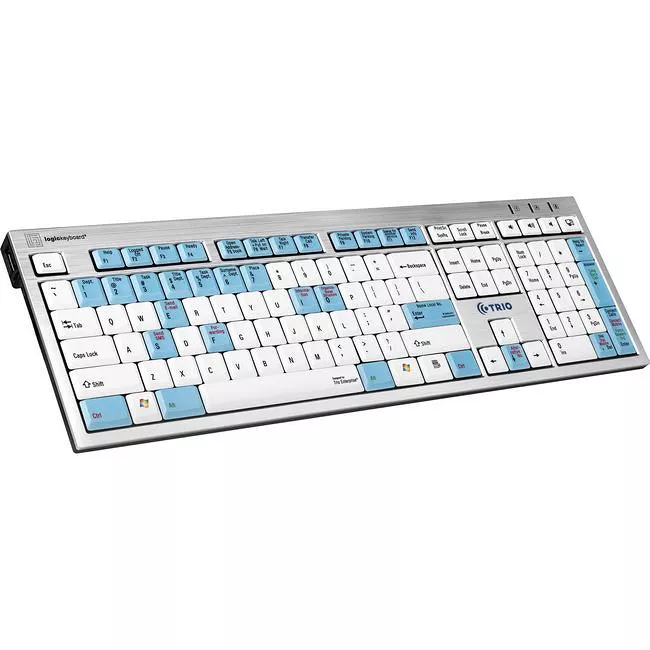 MPN: LKBU-TRIO-AJPU-US
Logickeyboard LKBU-TRIO-AJPU-US Trio Ent. Att.Telecom keyboard. US
Designed for using the Trio Enterprise attendant Operator system on a Windows PC.

Our Trio Enterprise Keyboard will be an eye opener for your employees. They will have easy access to phone call's, e-mail, facebook, twitter or other inquiries, with our color-coded shortcut system.

The keyboard is a stylish low profile, with a state-of-the-art scissor switch mechanism providing the ultimate comfort and responsiveness in typing. The keys have a large surface allowing low noise typing. It features two USB ports on each side of the keyboard and plug-and-play into any USB-equipped Windows PC.
Key Features & Benefits
Keys are color-coded for easy-to-spot frequently used keys
The keyboard functions as a standard keyboard for your other software applications
Eighteen pre-programmed hotkeys for Windows, Internet Explorer, and Windows Media (Eight on the ergonomic version)
Easy to set up and use. No software required. Soft touch keystroke - Ideal for all day comfort
2 USB Hubs: Built-in 2.0 Full Speed ports for additional desktop expansion
Windows Platform: Windows 2000, XP, Vista, 7/8/10
Connection: Wired USB - cord length 5 feet / 1.5 meter