Exxact LAMMPS Workstations & Servers for Molecular Dynamics
NVIDIA ELITE PARTNER
Exxact Corporation works closely with the NVIDIA team to ensure seamless factory development and support.
FULLY CUSTOMIZABLE
Offering a wide range of customizable options from workstations to clusters to meet your budget, starting at $4,999.
PLUG AND PLAY
Exxact systems are fully turnkey, built to perform right out of the box so you avoid the drudgery of configuration and setup.
HIGH PERFORMANCE
NVIDIA hardware, featuring Tesla V100, RTX 2080 Ti, GTX 1080 Ti, or Quadro GV100's to overcome your most demanding MD challenges.
PRECONFIGURED
With example job submission scripts, benchmarks, a fully validated test suite, and the latest software patches for quick implementation.
DO MORE SCIENCE!
Have peace of mind, focus on what matters most, knowing your system is backed by a 3 year warranty and support.
Suggested LAMMPS GPU Systems
Entry-Level
Valence Workstation
Mid-Range
Tensor Workstation
High-End
Tensor Workstation
Atomic-Fluid Lennard-Jones 5.0 Cutoff on V100s SMX2
All nodes contain Dual Intel Xeon E5-2698 v4 2.2GHz CPUs. Untuned on Volta, running LAMMPS v2017.
NVIDIA GPU Accelerated LAMMPS Servers & Workstations for Faster MD Simulation
Exxact offers premium NVIDIA GPU Accelerated LAMMPS Workstaions & Servers. LAMMPS is a highly flexible, highly scalable software suite for molecular dynamics developed by Sandia National Laboratories. According to the Sandia website: "LAMMPS stands for Large-scale Atomic/Molecular Massively Parallel Simulator. It's a classical molecular dynamics (MD) code. As the name implies, it's designed to run well on parallel machines, but it also runs fine on single-processor desktop machines."

Interested in NVIDIA GPU accelerated cryo-electron microscopy using Relion software? We offer certified platforms that offer significant speed improvements to image processing, reconstruction, structural analysis, and modeling.
» Learn more about Relion for Cryo-EM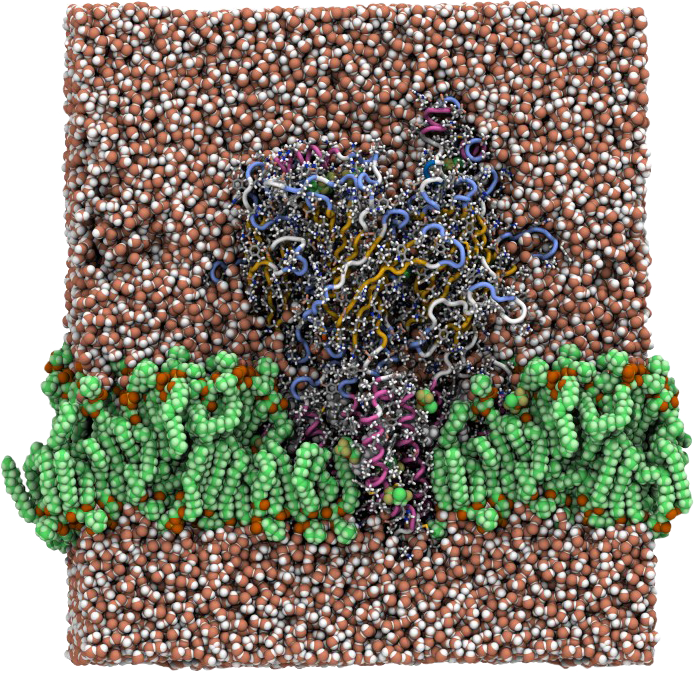 Bring Your MD into the Light with VMD and Ray Tracing
VMD is designed for modeling, visualization, and analysis of biological systems such as proteins, nucleic acids, lipid bilayer assemblies, etc. VMD includes a new built-in GPU-accelerated version of the Tachyon ray tracing engine, using NVIDIA CUDA and OptiX to achieve performance levels up to six times faster than the exisitng CPU versions of Tachyon. (Free User License Available from University of Illinois)
LEARN MORE