Kingston SEDC1000M/3840G DC1000M 3.84 TB U.2 2.5" 15mm PCIe NVMe Gen 3 x4 SSD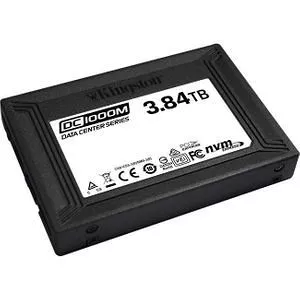 Highlights
Storage Capacity: 3.84 TB
Drive Interface: U.2 (SFF-8639) NVMe
Maximum Read Transfer Rate: 3100 MB/s
Maximum Write Transfer Rate: 2700 MB/s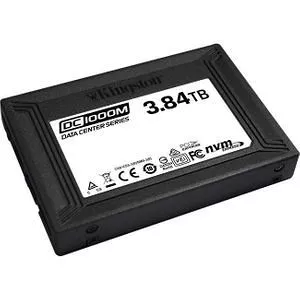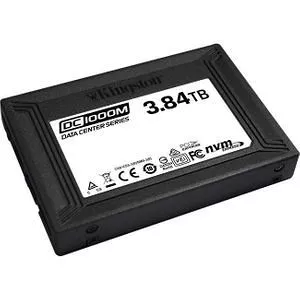 Kingston SEDC1000M/3840G DC1000M 3.84 TB U.2 2.5" 15mm PCIe NVMe Gen 3 x4 SSD
Highlights
Storage Capacity: 3.84 TB
Drive Interface: U.2 (SFF-8639) NVMe
Maximum Read Transfer Rate: 3100 MB/s
Maximum Write Transfer Rate: 2700 MB/s
Data Center DC1000M
The Kingston DC1000M U.2 NVMe SSD features high-storage capacity and best-in-class enterprise performance. It offers a high-performance Gen 3.0 x4 PCIe NVMe interface enabling high throughput and low latency on standardized platforms. It's designed to deliver up to 540K IOPS of random read performance and 3GB/s of throughput. The DC1000M is backed by strict QoS requirements to ensure predictable random IO performance as well as predictable latencies over a wide range of workloads.
The U.2 form factor design (2.5, 15mm) works seamlessly with the latest generation servers and storage arrays utilizing PCIe and U.2 backplanes. It's hot pluggable which makes the challenges of serviceable PCIe storage an issue of the past.
It also features enterprise-class features such as end-to-end data path protection, power loss protection (PLP), and telemetry monitoring for increased data center reliability. Backed by Kingston's legendary pre- and post-sales support and a five-year limited warranty. Capacities range from 960GB to 7.6TB.
Applications
The mixed-use workload drive makes it ideal for running a wide range of customer applications including:
Virtualization
High performance cloud service
Web hosting caching
High-resolution media capture and transport
ERP, CRM, GL, OLAP, OLTP, ERM, BI, and EDW workloads