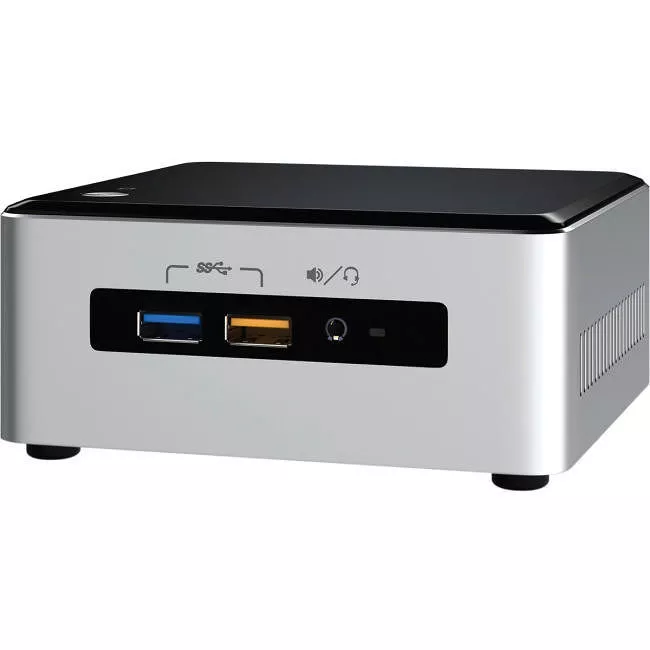 MPN: BOXNUC6I5SYH
Intel BOXNUC6I5SYH NUC NUC6i5SYH Desktop Computer - Core i5-6260U - Mini PC
WHO SAID SMALL ISN'T POWERFUL?

Get ready to be astonished by what small can do. A Mini PC with the power of a desktop tower, the Intel® NUC Kits NUC6i5SYH and NUC6i5SYK are equipped with Intel's newest architecture, the 6th generation Intel® Core™ i5-6260U processor. With Intel® Turbo Boost technology to accelerate processor and graphics performance for your peak loads, you can experience the thrill of gaming with your friends or the heart-stopping excitement of streaming the latest Hollywood blockbuster, along with the performance you need to access multiple applications easily or create your own digital media.

With 7.1 surround sound and a full-sized HDMI port for brilliant 4K resolution, the NUC6i5SYH and NUC6i5SYK are ideal for home theater PCs, media server PCs, and gaming PCs. The consumer infrared sensor means you can control your NUC from the comfort of your couch. The NUC6i5SYH has room for a 2.5 drive so you can store all your media and an M.2 SSD so you can transfer your data at lightning speeds. The even thinner NUC6i5SYK has room for an M.2 SSD.

See your movies in brilliant 4K with Intel® Iris™ Graphics
The Intel® Iris™ Graphics 540 with 4K display capabilities provide a brilliant HD experience for gaming and home theaters. You can watch theater-quality 4K videos in your living room or grab a game controller and answer the call of duty. You also have the performance you need to create content without having to wait as your video and images render.