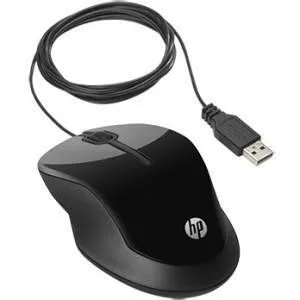 MPN: H4K66AA#ABL
HP H4K66AA#ABL X1500 Mouse
Hardware compatibility
Microsoft® Windows® XP/Vista™/7/8

HP invites you to improve the way you connect and communicate, work and play. Built with strict HP standards and guidelines, this world-class HP Mouse X1500 effortlessly blends sleek, modern design with life-enhancing, advanced features.

Features

70 years' experience. Strict quality control. One of the world's leading notebook manufacturers. HP delivers cutting-edge products built with some of the industry's toughest standards to enhance the way you connect & communicate.

The sleek and modern HP Mouse X1500 adds an instant touch of trend-setting style to any work space. Glossy black and metallic gray shine with sophistication. Plus, its curvy silhouette gives it a seductive shape.

The HP Mouse X1500 features the latest technology you crave. Dependable USB plug connects in one simple step. 3 buttons improve productivity. Scroll wheel flies through the web & documents. Optical senor works on most surfaces.