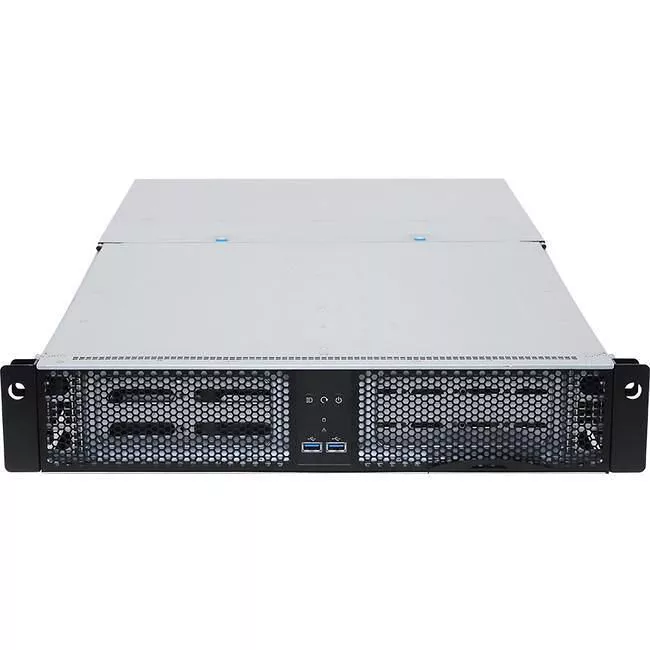 MPN: S251-3O0
GIGABYTE S251-3O0 2U Rack Barebone - 1x Socket P/LGA 3647 - Intel C621 - 24x 3.5" Drive Bays
2nd Generation Intel® Xeon® Scalable Family Ready
GIGABYTE's servers are fully ready to support the second generation of Intel® Xeon® Scalable Family processors, codenamed Cascade Lake, which bring the following major enhancements:
Intel® Optane™ Persistent Memory: Built-in support for this revolutionary new product based on Intel's 3D Xpoint technology
Overall Performance: Higher CPU frequencies, improved turbo profiles vs. prior-gen Intel Xeon Scalable processors
Increased DDR4 Memory Speed & Capacity: Up to 2933MHz (1 DIMM per channel on some SKUs), 16Gb based DIMM supported
Intel Deep Learning Boost: Significantly accelerates inference performance for deep learning workloads optimized to use VNNI (Vector Neural Network Instructions)
Security: Hardware mitigations for Meltdown / Spectre security vulnerabilities
Intel® Xeon® Scalable Family Processors
GIGABYTE's Intel® Xeon® Scalable Processor family servers are available in dual socket configurations, and are compatible with the full family* of different SKUs (Bronze, Silver, Gold and Platinum) that are workload optimized to support different applications, from enterprise IT database, cloud and storage to the most high-demand HPC workloads.

Advanced features built into the silicon include:
Intel® QAT: Speed up data compression and cryptography with integrated Intel QuickAssist Technology (QAT).
Intel® AVX-512: Intel Advanced Vector Extension 512 instruction set architecture enables workload-optimized performance and throughput increases for advanced analytics, high performance computing (HPC) applications, and data compression.
Intel® VROC: Intel Xeon Scalable Processors come with built-in support for Intel VROC (Virtual RAID on CPU). And GIGABYTE Intel Xeon Scalable NVMe SKU servers all ship with an Intel VROC module as standard.
Intel® Omni-Path: Selected GIGABYTE servers support CPU SKUs with integrated Intel Omni-Path Fabric connection
Intel® Optane™ Persistent Memory Ready
GIGABYTE's second generation Intel® Xeon® Scalable family servers come ready to support Intel® Optane™ Persistent Memory, a revolutionary new product that re-defines traditional memory & storage architectures by enabling a large persistent memory tier between DRAM and SSDs, that's higher capacity than DRAM and faster than SSDs, enabling the user to bring more data closer to the CPU for faster time for insight.
Optane Persistent Memory Modules (PMem) integrate seamlessly into existing DDR4 DIMM slots, and use Intel's 3D Xpoint memory technology, which unlike DRAM retains data after power is removed. The modules will be available in capacities up to 512GB - a massive increase compared to the current maximum 128GB of industry-leading DDR4 memory sticks - and can be addressed by the OS or application either as memory (Memory Mode) or storage (Application Direct Mode).
Intel® VROC Enabled
This server product is enabled for Intel VROC (Virtual RAID on CPU) to enable software RAID on connected NVMe SSDs, and ships with a VROC key as standard
Easy, Flexible & Powerful Storage Deployment
The S251-3O0 offers the following advantages to your storage deployment:
Single Intel Xeon Scalable processor for high performance and heavy workloads
x86 architecture means compatibility with a large variety of SDS (Software Defined Storage) platforms & applications
24 x 3.5 SATA / SAS drive bays for large scale out capacity, over 400TB raw capacity per server