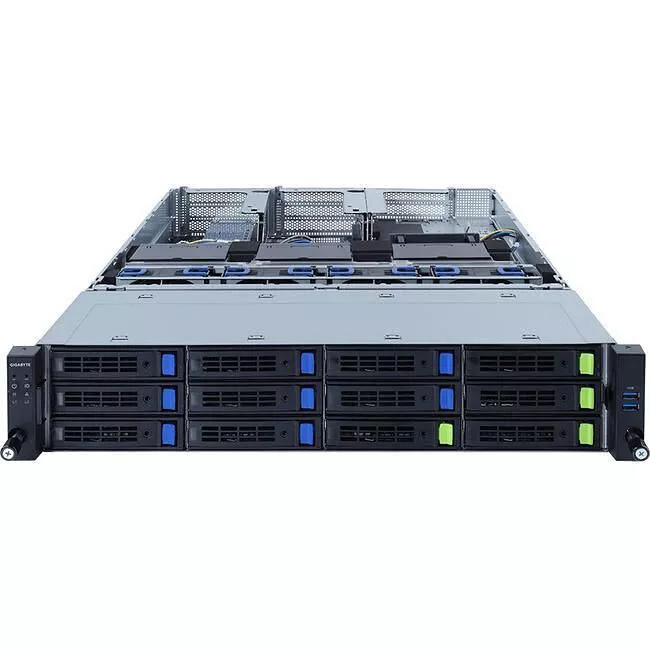 MPN: R282-Z96
GIGABYTE R282-Z96 2U Rack Barebone - 2x Socket SP3/AMD EPYC 7002/7001 - 2x 2000 W Platinum - 3x GPU
AMD EPYC™ 7002 Series Processor (Rome)
The next generation of AMD EPYC has arrived, providing incredible compute, IO and bandwidth capability - designed to meet the huge demand for more compute in big data analytics, HPC and cloud computing.
Built on 7nm advanced process technology, allowing for denser compute capabilities with lower power consumption
Up to 64 core per CPU, built using Zen 2 high performance cores and AMD's innovative chiplet architecture
Supporting PCIe® 4.0 with a bandwidth of up to 64GB/s, twice of PCIe 3.0
Embedded security protection to help defend your CPU, applications, and data
PCIe® 4.0 Ready
AMD EPYC Rome is ready to support PCIe® 4.0 with a bandwidth of 64GB/s, twice that of PCIe 3.0. This doubles the bandwidth available from the CPU to peripheral devices such as graphics cards, storage devices and high speed network cards. GIGABYTE's AMD EPYC 7002 Series server platforms are ready to be used with a new generation of PCIe 4.0 devices such as AMD's Radeon MI50 GPGPU.
Higher Memory Speed
AMD EPYC's Rome 7002 Series processors feature faster 8 channel DDR4 memory lanes, supporting RDIMM or LRDIMM memory modules with a speed of up to 3200MHz (1 DIMM per channel)
Get the Memory Performance Edge
3200Mhz Even at 2 DIMMS Per Channel
On previous AMD server platforms, memory speed has been automatically downgraded by design when a user installed two DIMMs per channel. GIGABYTE has now developed a unique solution to overcome this performance downgrade headache: with our new 2nd Generation AMD EPYC 7002 Series server platforms, maximum memory speed (3200Mhz) is now supported even when using 2 DIMMS per channel. GIGABYTE's server platforms give you the performance edge, with more memory capacity at faster speeds than competing solutions!
More M.2 Storage
GIGABYTE's AMD EPYC 7002 Series server platforms feature more M.2 drive capacity for ultra-fast NVMe storage - both onboard M.2 slots and extra capacity via optional riser cards.
OCP 3.0 Add-On Card Ready
GIGABYTE's AMD EPYC Rome Server Platforms feature an onboard OCP 3.0 mezzanine slot for the next generation of PCI Gen 4.0 add on cards.
Compared to previous OCP 2.0 type cards, advantages of this new type include:
Easier Serviceability: simply slot in / pull out the card without needing to open the server chassis; tool less design
Larger Thermal Envelope: more space for heat sink provides an increased power budget for new & emerging capabilities
Support Broadcom Tri-Mode RAID Adapters
This GIGABYTE server supports Broadcom Tri-Mode RAID adapters that enable operation of NVMe, SAS or SATA storage in a single drive bay. Together with GIGABYTE's holistic backplane that support Universal Backplane Management (UBM) protocol, it simply provides multi-protocol connectivity options that simultaneously gives users performance and flexibility of future expansions.
Max TDP Support
GIGABYTE's AMD EPYC server platforms come ready to support the full list of AMD EPYC 7002 Series processors: up to 225W (standard TDP) / 280W (cTDP)
Data Security
TPM 2.0 Module
GIGABYTE's AMD EPYC Server is designed to support Trusted Platform Modules (TPM - discrete cryptographic on-board processors).