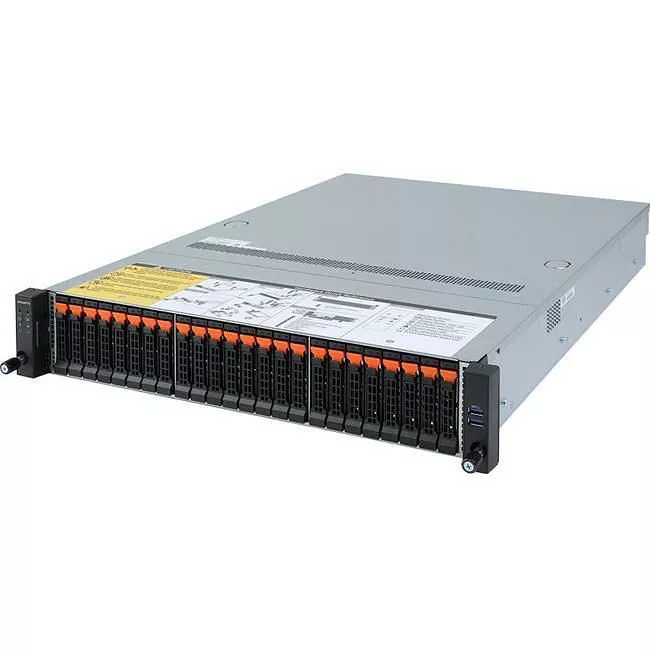 MPN: R272-Z32
GIGABYTE R272-Z32 2U Rack-mountable Barebone - SoC - Socket SP3 - 1 x Processor Support
AMD EPYC™ 7002 Series Processor (Rome)
The next generation of AMD EPYC has arrived, providing incredible compute, IO and bandwidth capability - designed to meet the huge demand for more compute in big data analytics, HPC and cloud computing.
Built on 7nm advanced process technology - the best the industry has to offer, allowing for denser compute capabilities with lower power consumption
The world's first 64 core data center CPU, built using Zen 2 high performance cores and AMD's innovative chiplet architecture
The world's first mainstream PCIe Gen 4.0 data center CPU with a bandwidth of up to 64GB/s, twice of PCIe Gen 3.0
Embedded security protection to help defend your CPU, applications, and data
PCIe Gen 4.0 Ready
AMD EPYC Rome is the world's first mainstream data center CPU to support PCIe Gen 4.0, with a bandwidth of 64GB/s, twice that of PCIe Gen 3.0. This doubles the bandwidth available from the CPU to peripheral devices such as graphics cards, storage devices and high speed network cards. GIGABYTE's AMD EPYC 7002 Series server platforms are ready to be used with a new generation of PCIe Gen 4.0 devices such as AMD's Radeon MI50 GPGPU.
Higher Memory Speed
AMD EPYC's Rome 7002 Series processors feature faster 8 channel DDR4 memory lanes, supporting RDIMM or LRDIMM memory modules with a speed of up to 3200MHz (1 DIMM per channel)
More M.2 Storage
GIGABYTE's AMD EPYC 7002 Series server platforms feature more M.2 drive capacity for ultra-fast NVMe storage - both onboard M.2 slots and extra capacity via optional riser cards.

Max TDP Support
GIGABYTE's AMD EPYC server platforms come ready to support the full list of AMD EPYC Rome 7002 Series processors: up to 225W (standard TDP) / 240W (cTDP)
Data Security
TPM 2.0 Module
GIGABYTE's AMD EPYC Server is designed to support Trusted Platform Modules (TPM - discrete cryptographic on-board processors).
Design Features for Easy Maintenance
GIGABYTE's AMD EPYC 7002 Series server platforms contain many tool less design features for easy installation, maintenance and removal - never worry about forgetting your toolbox or losing a screw again!
Tool-less Rail Kits
Rail kits attach to the side of the server chassis via clipping mechanism.
Tool-less 2.5 & 3.5 Drive Bays
Clipping mechanism secures the drive in place. Install or replace a new drive in seconds.
Efficient, Reliable Power Supply
GIGABYTE's AMD EPYC 7002 Series server are designed to guarantee high conversion efficiency regardless of load. Redundant 80 Plus 'Titanium' or 'Platinum' PSUs, combined with GIGABYTE's precision engineering, translates to super efficient power usage which maximizes the system's power : performance ratio and reduces OPEX for the user.
Intelligent Power Management Features
Cold Redundancy
To take advantage of the fact that a PSU will run at greater power efficiency with a higher loading, GIGABYTE has introduced a power management feature called Cold Redundancy for servers with dual PSU. When the total system loading falls lower than 40%, the system will automatically place one PSU into standby mode, enabling the other PSU to take over the greater load. This can enable total system power efficiency savings of up to 10%.