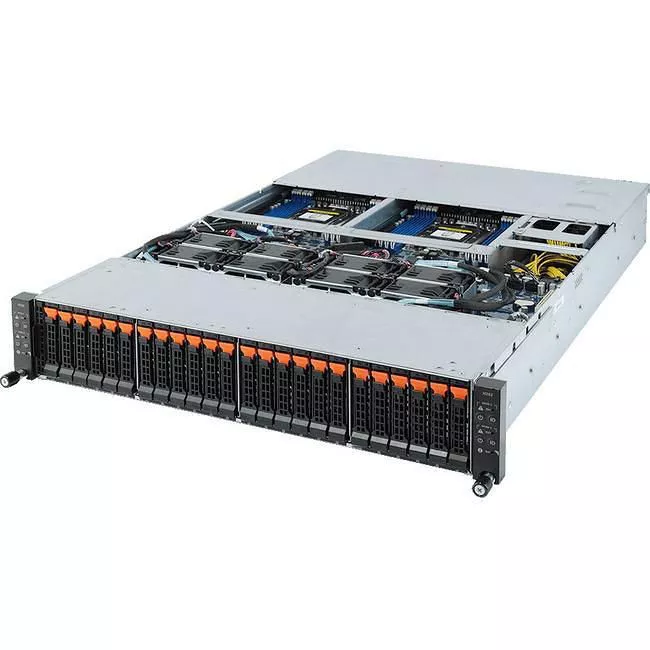 MPN: H252-Z10
GIGABYTE H252-Z10 Barebone - 2U Rackmount - 1x AMD Socket SP3
2U - 4 nodes rear access server system
Single AMD EPYC™ 7002 series processor family
4 x LGA 4094 sockets
8-Channel RDIMM/LRDIMM DDR4, 32 x DIMMs
8 x 1Gb/s LAN ports (Intel® I350-AM2)
4 x Dedicated management ports
1 x CMC global management port
24 x 2.5 NVMe hot-swappable SSD bays
8 x M.2 with PCIe Gen3 x4 interface
8 x Low profile PCIe x16 expansion slots
4 x OCP 2.0 Gen3 x16 mezzanine slots
Aspeed® AST2500 remote management controller
2000W 80 PLUS Platinum redundant PSU
AMD EPYC™ 7002 Series Processor (Rome)
The next generation of AMD EPYC has arrived, providing incredible compute, IO and bandwidth capability - designed to meet the huge demand for more compute in big data analytics, HPC and cloud computing.
Built on 7nm advanced process technology, allowing for denser compute capabilities with lower power consumption
Up to 64 core per CPU, built using Zen 2 high performance cores and AMD's innovative chiplet architecture
Supporting PCIe Gen 4.0 with a bandwidth of up to 64GB/s, twice of PCIe Gen 3.0
Embedded security protection to help defend your CPU, applications, and data
PCIe Gen 4.0 Ready
AMD EPYC Rome is ready to support PCIe Gen 4.0 with a bandwidth of 64GB/s, twice that of PCIe Gen 3.0. This doubles the bandwidth available from the CPU to peripheral devices such as graphics cards, storage devices and high speed network cards. GIGABYTE's AMD EPYC 7002 Series server platforms are ready to be used with a new generation of PCIe Gen 4.0 devices such as AMD's Radeon MI50 GPGPU.
Higher Memory Speed
AMD EPYC's Rome 7002 Series processors feature faster 8 channel DDR4 memory lanes, supporting RDIMM or LRDIMM memory modules with a speed of up to 3200MHz (1 DIMM per channel)
More M.2 Storage
GIGABYTE's AMD EPYC 7002 Series server platforms feature more M.2 drive capacity for ultra-fast NVMe storage - both onboard M.2 slots and extra capacity via optional riser cards.
Max TDP Support
GIGABYTE's AMD EPYC server platforms come ready to support the full list of AMD EPYC Rome 7002 Series processors: up to 225W (standard TDP) / 240W (cTDP)
Data Security
TPM 2.0 Module
GIGABYTE's AMD EPYC Server is designed to support Trusted Platform Modules (TPM - discrete cryptographic on-board processors).
Carefully Selected Components
GIGABYTE's passive components are carefully selected to guarantee a stable operating environment and allow the processors and the memory to deliver their maximum performance. GIGABYTE's server motherboards are built with long lasting components for a high degree of reliability and durability.
CMC for Chassis Management & Multi-Node Monitoring
GIGABYTE's H-Series Servers feature an Aspeed CMC (Central Management Controller) for chassis-level management and node-level monitoring (by connecting internally to Aspeed BMCs integrated on each node). This results only in one MLAN connection required to perform monitoring of all four nodes, resulting in less ToR (Top of Rack) cabling and switch connections.