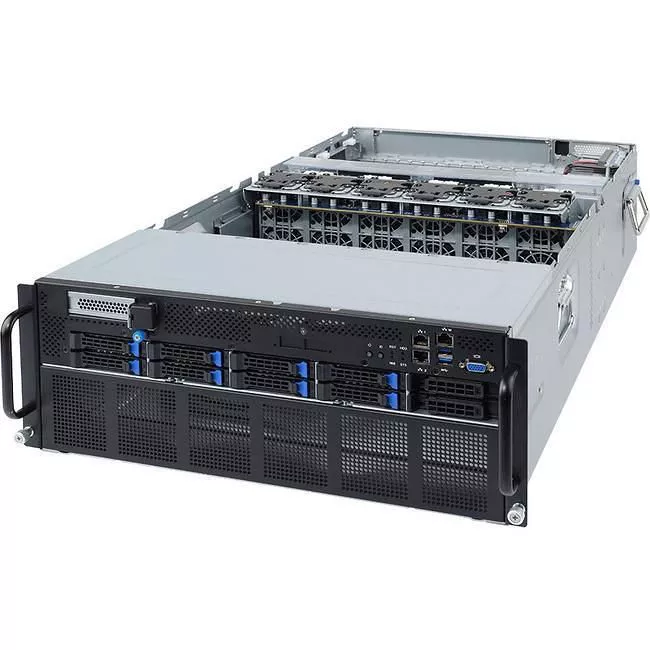 MPN: G482-Z52
GIGABYTE G482-Z52 4U Rackmount Barebone - 2x AMD EPYC 7002 - PCIe Gen 4 - SOC
AMD EPYC™ 7002 Series Processor (Rome)
The next generation of AMD EPYC has arrived, providing incredible compute, IO and bandwidth capability - designed to meet the huge demand for more compute in big data analytics, HPC and cloud computing.
Built on 7nm advanced process technology, allowing for denser compute capabilities with lower power consumption
Up to 64 core per CPU, built using Zen 2 high performance cores and AMD's innovative chiplet architecture
Supporting PCIe Gen 4.0 with a bandwidth of up to 64GB/s, twice of PCIe Gen 3.0
Embedded security protection to help defend your CPU, applications, and data
GIGABYTE Management Console
GIGABYTE server utilizes the AMI MegaRAC SP-X solution for BMC server management, has a browser-based graphical user interface, and is feature-rich and easy to use.
RESTful API support includes the latest DMTF standard of Redfish. Allows integration with 3rd party applications for server management
Including HTML5 based iKVM remote management client, no need to purchase other additional licenses
Detailed FRU information from SMBIOS
10 to 30 seconds pre-event automatic recording function
SAS / RAID controller monitoring function
GIGABYTE Server Management (GSM)
GIGABYTE Server Management (GSM) is GIGABYTE's proprietary multiple server remote management software platform, available as a free download from each GIGABYTE server product page. GSM is compatible with either IPMI or Redfish (RESTful API) connection interfaces, and comprises the following sub-programs:
GSM Server, a software program with an easy to use browser-based GUI to enable global remote monitoring and management of multiple GIGABYTE servers via each server node's BMC.
GSM CLI, a command-line interface program to enable global remote monitoring and management of multiple GIGABYTE servers via each server node's BMC.
GSM Agent*, a software program installed locally on each GIGABYTE server node that retrieves additional node information (CPU/Mem/HDD/PCI/...) from the OS and passes it to the BMC. This information can then be utilized by GSM Server or GSM CLI.
*GSM Agent is currently compatible with Avocent MergePoint IPMI 2.0 BMC firmware, but not yet compatible with Megarac SP-X BMC firmware.
GSM Mobile, a remote server management mobile APP, available for both Android and iOS.
GSM Plugin, a plugin that allows the user to manage and monitor GIGABYTE server nodes within VMware's vCenter.
Intuitive & Informative User Interface
Starting from the GSM Server dashboard, the user can clearly understand the status of each node in the IT environment, including:
Node connection status (system is online/offline)
Node hardware sensor status (to detect hardware anomalies). Sensors measure voltage, fan speed and temperature
Node usage rate status (allowing you to timely allocate more resources when they are needed), including:

Power consumption
Disk/RAID usage information
Memory usage rate
CPU usage rate
Network card / PCI information