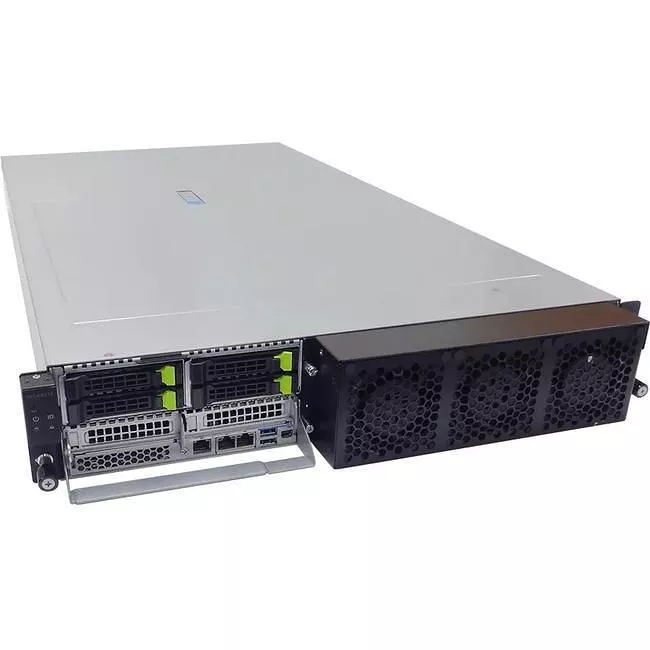 MPN: G262-ZR0
GIGABYTE G262-ZR0 NVIDIA HGX A100 4x GPU Barebone
AMD EPYC™ 7002 Series Processor (Rome)
The next generation of AMD EPYC has arrived, providing incredible compute, IO and bandwidth capability - designed to meet the huge demand for more compute in big data analytics, HPC and cloud computing.
Built on 7nm advanced process technology, allowing for denser compute capabilities with lower power consumption
Up to 64 core per CPU, built using Zen 2 high performance cores and AMD's innovative chiplet architecture
Supporting PCIe® 4.0 with a bandwidth of up to 64GB/s, twice of PCIe 3.0
Embedded security protection to help defend your CPU, applications, and data
High Density HPC
Supports NVIDIA HGX™ A100 4-GPU
Massive datasets, exploding model sizes, and complex simulations require multiple GPUs with extremely fast interconnections. NVIDIA HGX A100 combines NVIDIA A100 Tensor Core GPUs with high-speed interconnects to form the world's most powerful servers. With A100 80GB GPUs, a single HGX A100 has up to 1.3 terabytes (TB) of GPU memory and over 2 terabytes per second (TB/s) of memory bandwidth, delivering unprecedented acceleration.
PCIe® 4.0 Ready
AMD EPYC Rome is ready to support PCIe® 4.0 with a bandwidth of 64GB/s, twice that of PCIe 3.0. This doubles the bandwidth available from the CPU to peripheral devices such as graphics cards, storage devices and high speed network cards. GIGABYTE's AMD EPYC 7002 Series server platforms are ready to be used with a new generation of PCIe 4.0 devices such as AMD's Radeon MI50 GPGPU.
Higher Memory Speed
AMD EPYC's Rome 7002 Series processors feature faster 8 channel DDR4 memory lanes, supporting RDIMM or LRDIMM memory modules with a speed of up to 3200MHz (1 DIMM per channel)
More M.2 Storage
GIGABYTE's AMD EPYC 7002 Series server platforms feature more M.2 drive capacity for ultra-fast NVMe storage - both onboard M.2 slots and extra capacity via optional riser cards.
OCP 3.0 Add-On Card Ready
GIGABYTE's AMD EPYC Rome Server Platforms feature an onboard OCP 3.0 mezzanine slot for the next generation of PCI Gen 4.0 add on cards.
Compared to previous OCP 2.0 type cards, advantages of this new type include:
Easier Serviceability: simply slot in / pull out the card without needing to open the server chassis; tool less design
Larger Thermal Envelope: more space for heat sink provides an increased power budget for new & emerging capabilities
Data Security
TPM 2.0 Module
GIGABYTE's AMD EPYC Server is designed to support Trusted Platform Modules (TPM - discrete cryptographic on-board processors).
Carefully Selected Components
GIGABYTE's passive components are carefully selected to guarantee a stable operating environment and allow the processors and the memory to deliver their maximum performance. GIGABYTE's server motherboards are built with long lasting components for a high degree of reliability and durability.
Design Features for Easy Maintenance
GIGABYTE's AMD EPYC 7002 Series server platforms contain many tool less design features for easy installation, maintenance and removal - never worry about forgetting your toolbox or losing a screw again!
Tool-less Rail Kits
Rail kits attach to the side of the server chassis via clipping mechanism.
Tool-less 2.5 & 3.5 Drive Bays
Clipping mechanism secures the drive in place. Install or replace a new drive in seconds.