Highlights:
Rack Height: 4U
Processor: 2x AMD EPYC 7002-Series
Drive Bays: 6x 2.5" NVMe Hot-Swap
8x NVIDIA A100 SXM4 GPUs
The TensorEX TS4-195183185-DPN is a 4U rack mountable Deep Learning & AI server supporting 2x AMD EPYC 7002 Series processors, 32x DDR4 memory slots, and eight A100 Volta GPUs (SXM4), with up to 600GB/s NVLINK interconnect.
GPUs have provided groundbreaking performance to accelerate deep learning research with thousands of computational cores and up to 100x application throughput when compared to CPUs alone. Exxact has developed the TensorEX TS4-195183185-DPN, featuring NVIDIA GPU technology coupled with state-of-the-art NVLINK GPU-GPU interconnect technology, and a full pre-installed suite of the leading deep learning software, for developers to get a jump-start on deep learning research with the best tools that money can buy.
Features:
Supports 2x AMD EPYC 7002-Series processors (Socket SP3)
8x A100 SXM4 40 GB (19.5 TFlops of single precision, 1555 GB/s of memory bandwidth, and 40 GB of memory per board) GPUs
NVIDIA DIGITS software providing powerful design, training, and visualization of deep neural networks for image classification

Pre-installed standard Ubuntu 18.04 w/ Deep Learning software stack

Google TensorFlow software library
Automatic software update tool included
A turn-key server with up to 600GB/s NVLINK interconnect
EMLI (Exxact Machine Learning Images)
Most Popular

Compare

*Additional NGC (NVIDIA GPU Cloud) containers can be added upon request.

Conda EMLI

Separated Frameworks

Container EMLI

Flexible. Reconfigurable.

DIY EMLI

Simple. Clean. Custom.

Who is it for?

For developers who want pre-installed deep learning frameworks and their dependencies in separate Python environments installed natively on the system.

For developers who want pre-installed frameworks utilizing the latest NGC containers, GPU drivers, and libraries in ready to deploy DL environments with the flexibility of containerization.

For experienced developers who want a minimalist install to set up their own private deep learning repositories or custom builds of deep learning frameworks.

Frameworks*

TensorFlow V1
—
—
TensorFlow V2
—
PyTorch
—
MXnet
—
Caffe
—
—
Caffe2
—
Chainer
—
—
Microsoft Cognitive Toolkit


—
—

Libraries*

NVIDIA cuDNN
NVIDIA Rapids
—
Keras
—
Theano
—
OpenCV


—

Software Environments

NVIDIA CUDA Toolkit
NVIDIA CUDA Dev Toolkit
—
NVIDIA Digits
—
Anaconda


—

Container Management

Docker


—

Drivers

NVIDIA-qualified Driver



Orchestration

Micro-K8s


Free upgrade available
Free upgrade available
Free upgrade available
AMD EPYC™ 7002 Series Processor (Rome)
The next generation of AMD EPYC has arrived, providing incredible compute, IO and bandwidth capability – designed to meet the huge demand for more compute in big data analytics, HPC and cloud computing.
Built on 7nm advanced process technology – the best the industry has to offer, allowing for denser compute capabilities with lower power consumption.
The world's first 64 core data center CPU, built using Zen 2 high performance cores and AMD's innovative chiplet architecture.
The world's first mainstream PCIe Gen 4.0 data center CPU with a bandwidth of up to 64GB/s, twice of PCIe Gen 3.0.
Embedded security protection to help defend your CPU, applications, and data.
Up to 2X Performance Per Socket & IO Bandwidth vs AMD EPYC Naples.
Up to 4X Floating Point Per Socket vs AMD EPYC Naples.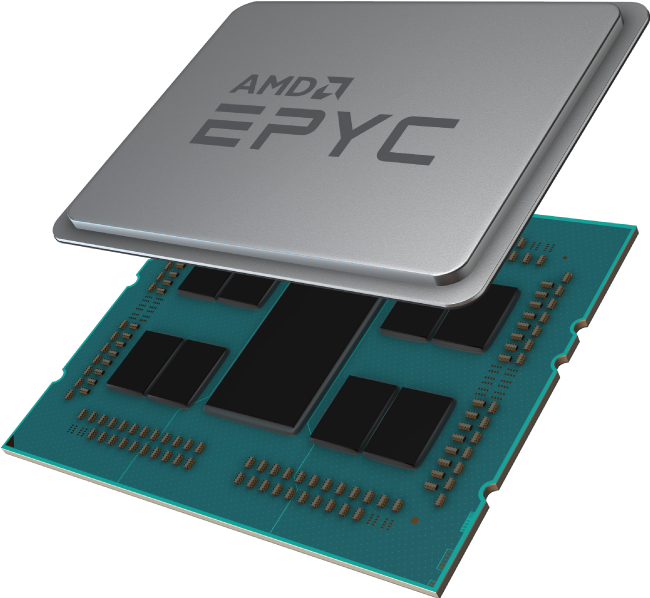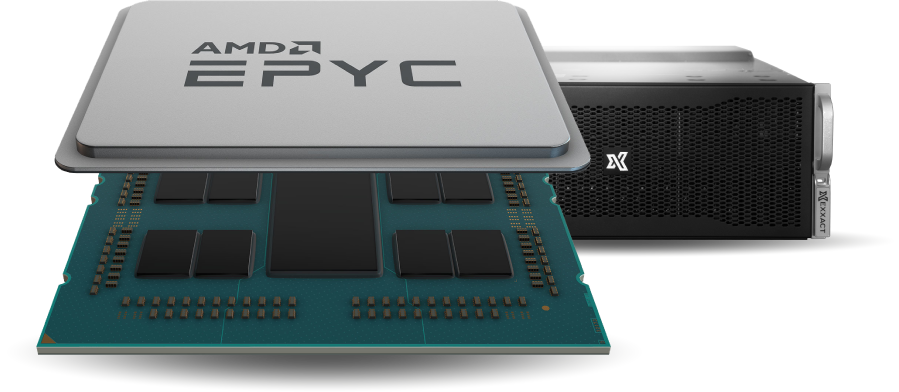 Discover the new leader in data center performance.
See the new standard with AMD EPYC 7002 servers and workstations.
Learn More
PCIe Gen 4.0 Ready
AMD EPYC Rome is the world's first mainstream data center CPU to support PCIe Gen 4.0, with a bandwidth of 64GB/s, twice that of PCIe Gen 3.0. This doubles the bandwidth available from the CPU to peripheral devices such as graphics cards, storage devices and high speed network cards. Exxact's AMD EPYC 7002 Series server platforms are ready to be used with a new generation of PCIe Gen 4.0 devices such as AMD's Radeon MI50 GPGPU.
* The PCIe 4.0 standard supports a 16 GT/s bit rate, (roughly 2GB/s per single lane) as opposed to 8GT/s bit rate for PCIe 3.0 (1GB/s).
Higher Memory Speed
AMD EPYC's Rome 7002 Series processors feature faster 8 channel DDR4 memory lanes, supporting RDIMM or LRDIMM memory modules with a speed of up to 3200MHz (1 DIMM per channel)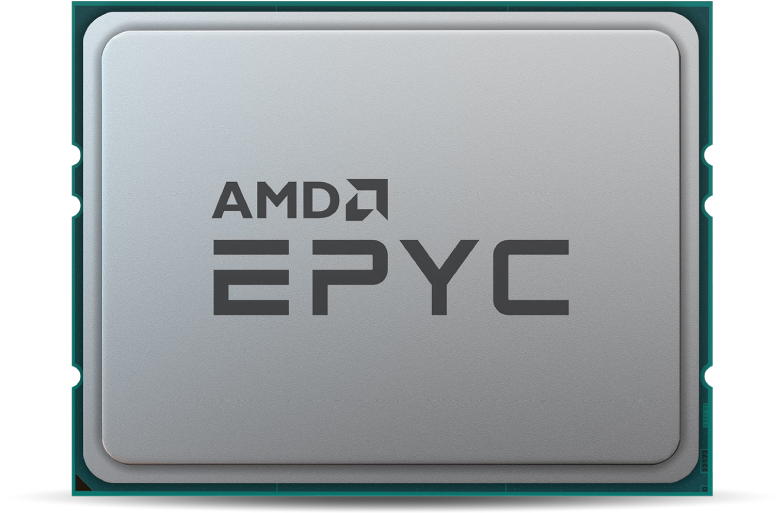 See the new processor standard for innovation.
Raise expectations for your data center.
Learn More
Processor & Chipset
Number of Processors Supported
2
Processor Socket
Socket SP3
Thermal Design Power (TDP)
280 W
GPU
8x NVIDIA A100 Ampere SXM4
Memory
Memory Standard
DDR4-3200/PC4-25600
Number of Total Memory Slots
32
Display & Graphics
Graphics Controller Manufacturer
ASPEED
Graphics Controller Model
AST2500
I/O Expansions
PCI Express
8x PCI-E 4.0 x16 slots (Low-Profile)
2x PCI-E 4.0 x16/x8 slots (Low-Profile)
2x PCI-E M.2 slots
Drive Bays
Hot-swap
4x U.2/2.5 hot-swap NVMe/SATA3 drive bays
2x U.2 hot-swap NVMe drive bays
Interfaces/Ports
Total Number of USB 3.0 Ports
N/A
Number of SATA Interfaces
6
Number of NVMe Interfaces
6
LAN
Optional AIOM Networking card
1x RJ45 Dedicated IPMI Port
Onboard Video
1x VGA Connector
Power Description
Number of Power Supplies
4
Redundant Power Supplies
Yes
Maximum Power Supply Wattage
2200 W
Certification
80 Plus Titanium
Physical Characteristics
Form Factor
Rack-mountable