Exxact TensorEX TS4-1642572-MPX 4U 1x Intel Core X-Series processor server - Media Processor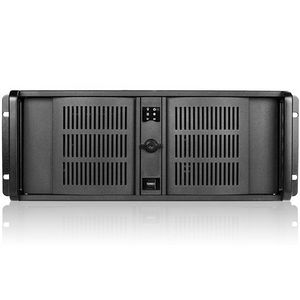 Highlights
Rack Height: 4U
Processor: 1x Intel Core X-Series
Drive Bays: 3x 3.5" (2x Internal), 4x 5.25" External
Media Processor Solution supporting 4x Double-Wide GPUs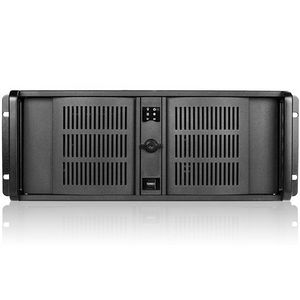 Exxact TensorEX TS4-1642572-MPX 4U 1x Intel Core X-Series processor server - Media Processor
Highlights
Rack Height: 4U
Processor: 1x Intel Core X-Series
Drive Bays: 3x 3.5" (2x Internal), 4x 5.25" External
Media Processor Solution supporting 4x Double-Wide GPUs
The TensorEX TS4-1642572-MPX is a 4U rack mountable server supporting 1x Intel Core X-Series processor and a maximum of 256 GB DDR4 memory. The TensorEX TS4-1642572-MPX media processor offers real-time video processing and playback systems for multi-display and media compositing. Featuring Play-Out Composer software, the media processors are capable of handing various media sources including graphics, video, sound, Web URL, streaming video, RSS live feed, and live inputs (DVI, HD-SDI) across multiple display areas in high resolution.</p
Any Shape
Exxact's media processors provide users endless possibilities for creative expression and offer a dynamic way to deliver art and information. Arrange your displays at any angle, shape or styles with a mix of different pixel areas or cutout of a display surface in full resolution. Supported displays include LED, projectors, monitors, display cubes and more.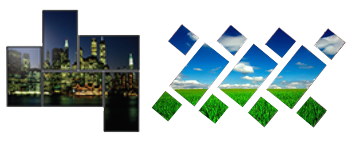 Multi-projector edge blending
When creating a seamless image from multiple side-by-side projectors, it often requires edge-blending enabled projectors for multi-screen setup. With the built-in edge blending feature of Exxact's media processors, you can use off-the-shelf projectors to easily and intuitively adjust the number of overlapping pixels and brightness at adjoining edges.
Geometry
The geometry (image-warping) feature is designed to make an image look visually correct when it is projected onto a non-planar screen. All projector settings can be adjusted in real time. This allows users to edit content directly in the projection canvas.

Interactive control
It is now possible to interact, click, drag, and touch onto elements on the display area powered by Exxact's media processors. Through simple drag-and-drop actions, a previously static presentation can be altered to react to as many touch points as the hardware allows - no programming skills required.

Live input DVI/HDMI/HD-SDI processing
Capture live input from a PC, video cameras, or DVI/HMDI/HD-SDI sources and integrate them into displaying content. Video sizes can be from 576p to 2160p with low-latency video.

Beyond 4K - 8K and ultra HD
As the HD format has become the standard for large scale display, Exxact' s media processors are able to support high-resolution video playback, with a maximum resolution of up to 8K. It is ideal for high-end use in any area of audiovisual content production.

External control and media production
Besides supporting external control systems such as Crestron® or AMX® to manually control different scenes/actions, Exxact's media controllers also work with mainstream production software such as Adobe After Effects. Now you can bring different media all together in real time.
Media sources
Video: MPEG2, H264, VMW etc. SD, 720p,1080p, 2160p, 5760x1080p, 7680x1080p
Image: JPG, PNG (alpha), any size of image
WEB / URL(interactive, flash), RSS feed (Twitter)
Streaming video, IP video
Live source: DVI, HMDI, HD-SDI
Text, Clock, Date