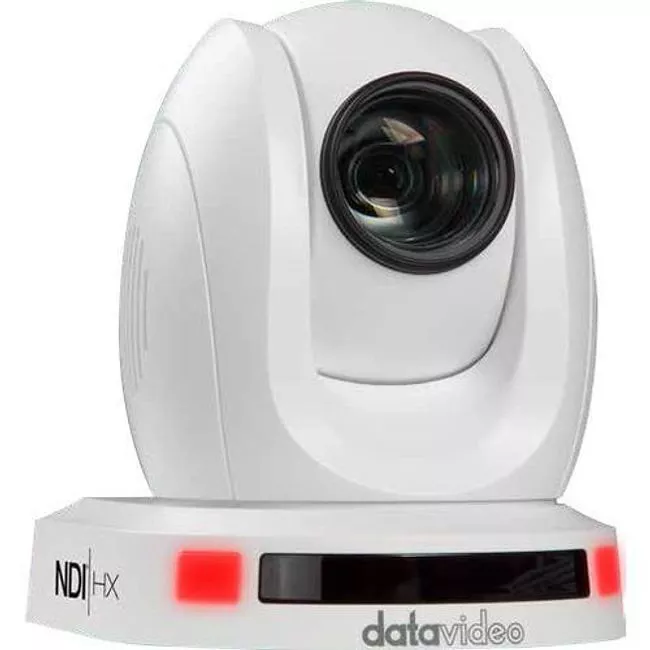 MPN: PTC-140NDIW
Datavideo PTC-140NDIW 20x NDI® | HX, 3G-SDI and HDMI PTZ Camera in White
The PTC-140 series is a cost-effective SDI/HDMI PTZ camera, which features 1/2.8 inch CMOS sensor, 1920x1080px Full HD resolution 20x optical zoom, 10x digital zoom gives you sharp images no matter where you mount the camera.

The PTC-140's onboard streaming encoder can encode up to 2 simultaneous streams to any cloud service, including Datavideo's dvCloud. It supports H.264 /H.265 video compression and dual stream output. Advanced 2D/3D noise reduction allows you to create high quality images even in low light conditions.

The PTC-140 series comes in various models for different settings. PTC-140 NDI features NDI® | HX, which is the first NDI camera launched by Datavideo, and supports simultaneous NDI® | HX, 3G-SDI, HDMI up to 1080P60 hardware output. PTC-140 works with HDBaseT Technology, which allows you to shoot 1080p video, tally, power, and remote by using only one ethernet cable without a need for IP connection.

Broadcast quality 1/2.8-inch CMOS sensor

Resolution is up to 1920x1080 with a frame rate up to 60fps.

Low Noise CMOS effectively ensures high SNR of camera video

Advanced 2D/3D noise reduction technologyis used to further reduce the noise, while ensuring image sharpness.

Multiple Network Protocol

Support RTSP, RTMPS protocols, easy to stream directly to your desired CDN streaming platform.

Control thru many ways

Control real-time pan, tilt, and zoom camera movements with Datavideo RMC-300A, 300C, and 180.

Dark blue and white color models

PTC-140 is available in two colors, dark blue and white. Suitable for broadcast, worship, video conferencing and etc.

Tally Light

Tally lights show the preview and program status.

Supports H.264/H.265 video compression

Support compression of resolution up to 1920x1080 with frame up to 60fps and 2 channel 1920x1080p with 30fps compression. AAC, MP3 and PCM audio compression also supported.

RS-232/RS-422/RS-485 Camera Control

RS-232, RS-422 and RS-485 ports to use DVIP and VISCA commands to integrate with larger control systems.

One Ethernet cable with NDI® | HX technology

There is no need for multiple cables and complicated setup. Single-wire concept helps you to transfer video, audio, power, tally, and control over only one Ethernet cable.

Control thru many ways

Control real-time pan, tilt, and zoom camera movements with Datavideo RMC-300A, 300C, and 180, as well as, the NDI controller, which supports configurable preset positions.

NDI® Virtual Input

Present PTC-140NDI as the video input source to video streaming applications Skype, GoToMeeting, WebEx, Zoom, and more.

Power over Ethernet

Power Over Ethernet (PoE) functionality allows you transmit all the information and power over only one cable.