Datapath ARQA RX1/C KVM receiver for copper cable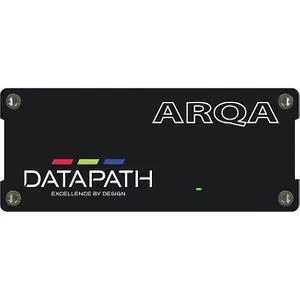 Highlights
Product Type: KVM Extender
Form Factor: Surface-mountable | Rack-mountable
Condition: New
Category: Video Cards and Devices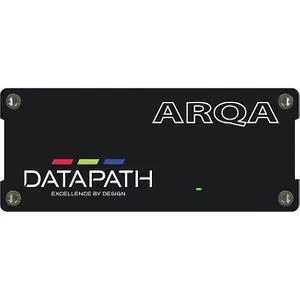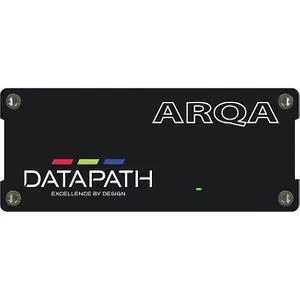 Datapath ARQA RX1/C KVM receiver for copper cable
Highlights
Product Type: KVM Extender
Form Factor: Surface-mountable | Rack-mountable
Condition: New
Category: Video Cards and Devices
UNPARALLELED HARDWARE KVM

Aiding demanding command and control environments and other AV applications, Arqa gives operators access to multiple remote sources without sacrificing video quality or round-trip latency.
Suitable for those who need to monitor, control and share access to multiple remote servers, Datapath's Arqa product range supports up to 2000 endpoints contained within a single 1Gb switched video distribution network. Arqa compliments Datapath's award winning VSN video wall controllers, which are found today in control rooms and command centres all over the world and offers an ideal control solution for systems integrators.
FEATURES
KVM matrixing with up to 2,000 endpoints
One Control Technology - Allows control of multiple PC's across a single workstation with one keyboard and mouse
Multi-head support - Sources with multiple screens can be treated 'as one'
Push support - Share current source with other receivers
Pull support - Access any source direct from the receiver
Flexible sharing - Remote source viewing or take control
Hardware KVM with intra-frame compression algorithm: Visually lossless image quality, irrespective of content : Significant latency advantage over other methods, e.g. h264, RDP, VNC, PCoIP
Copper and Fiber versions (can be mixed)
Simple network switch requirements
Plug and Play installation over IP
Video loop-through port for local extension into IP network
Mass storage mode disable for securing against endpoint intrusion
PUSH AND PULL
Arqa's Push and Pull functionality is ideal for users who require the ability to monitor, control and share multiple sources from a variety of workstations. With minimal effort each user can choose from a pool of remote sources and pull them onto their individual workstations. Once work is finished with one source, another can be quickly switched into its place, increasing working efficiency as well as facilitating a level of system redundancy.
Users can monitor any source of interest that might be under the control of another user without distracting their workflow. Users granted with sufficient permissions can choose to push their source onto other workstations or onto a central video wall via a Datapath video wall controller.
ONE CONTROL
With built-in One Control, switching between multiple sources can be done with ease. Users can simply drag their cursor to the edge of their monitor and seamlessly glide through multiple sources of interest with zero latency, just as if all sources were connected locally. Up to 16 HD screens can be connected into a single virtual workstation using One Control to switch between sources and applications.
ARQA NETWORK MANAGER

Network Manager is a Windows-based application required for managing Arqa network distributed systems. Built with ease of use in mind, the simple UI provides fast and convenient control of all Arqa devices. It handles network device discovery, device configuration, video routing, sharing configurations as well as administrator settings.
Network Manager also offers a User Rights Management facility which restricts users to accessing only endpoints within the system, all under the control of a system administrator. Once enabled, users must log on to a workstation with their account before gaining access to their sources or to any screens.
COMPATIBILITY
Arqa can be used either in point-to-point mode or switched over a network.