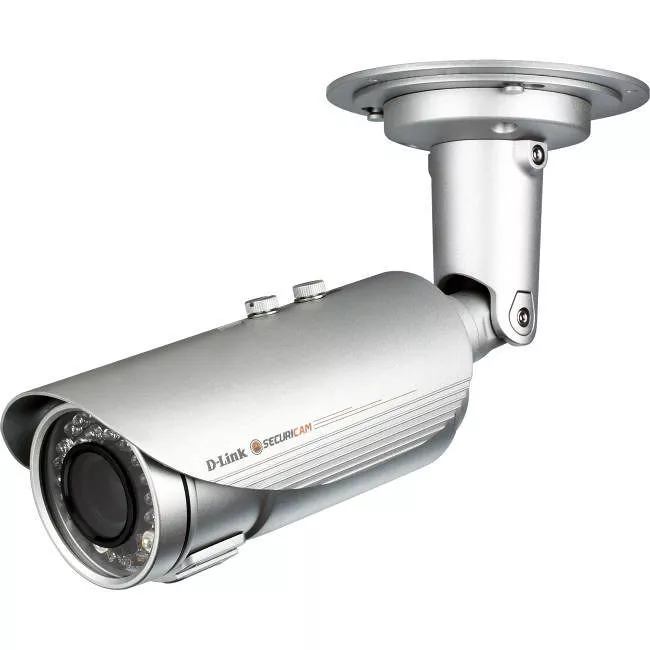 MPN: DCS-7517
D-Link DCS-7517 5 Megapixel Outdoor HD Network Camera - Monochrome, Color - Bullet
Built for the Outdoors
Specially built for outdoor use, the DCS-7517 has an IP66 weatherproof housing that protects it from dirt and rain. Combined with its power over Ethernet (PoE) capability, the DCS-7517 truly is a versatile solution that be used in a wide range of applications.
Continuous Monitoring
In low-light situations, the IR cut filter automatically slides out of the way to use all available light. The DCS-7517 also has built-in IR LED illuminators with a 30 meter range, allowing the camera to keep watch even in complete darkness. These features work together to give you a reliable surveillance camera capable of monitoring an area 24 hours a day. To maximize bandwidth efficiency and improve image quality, the DCS-7517 provides real-time video compression using the H.264, and MJPEG codecs, and supports three separate profiles for simultaneous video streaming and recording. This versatility enables a wide variety of security applications, such as monitoring public areas to detect incidents and to coordinate responses, enforcing access control to restricted areas, deterring criminal activity, or monitoring inventory.
Flexible Connectivity
The DCS-7517 has a built-in 802.3af compliant PoE module that simplifies installation by providing power and networking connectivity with a single cable, reducing the need to drill holes or lay additional cabling. In addition, the included digital input and output connector enables connections to external devices such as IR sensors, switches and alarm relays.