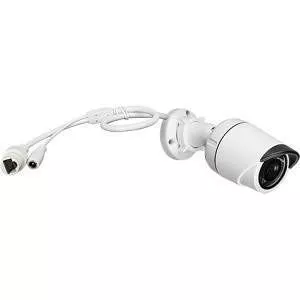 MPN: DCS-4701E
D-Link DCS-4701E Vigilance HD Network Camera - Color
Camera Overview
The D-Link DCS-4701E Vigilance HD Outdoor Mini Bullet Network Camera is a high definition professional surveillance camera suitable for small, medium, and large enterprises. The camera uses a high-sensitivity 1/3 megapixel progressive scan CMOS sensor with digital WDR image enhancement to deliver balanced video in varying lighting conditions. The compact rugged design makes this camera ideal for deployment in a wide variety of surveillance applications without the need for additional accessories.
Enhanced LowLight+ Video
Incorporating a highly sensitive CMOS sensor, the DCS-4701E provides outstanding performance in low light conditions, rendering more vibrant color details. The 3D noise reduction feature improves the image quality and compression savings in low light by dramatically reducing noise.
Continuous Monitoring
The DCS-4701E's digital wide dynamic range (WDR) video enhancement gives you improved image quality in environments with uneven or difficult lighting, so you can identify subjects that are backlit or in brightly lit areas. In low-light situations, the IR cut filter automatically slides out of the way to use all available light. The DCS-4701E also has built-in IR LED illuminators with a 90 foot range, allowing the camera to keep watch even in complete darkness. These features work together to give you a reliable surveillance camera capable of monitoring an area 24 hours a day.
Video Management Software
The DCS-4701E Vigilance Full HD Outdoor Dome Network Camera includes D-ViewCam, a complete surveillance software package that enables you to view, manage, and record from up to 32 cameras on a single computer in a central location. Recordings and e-mail alerts can be triggered through motion detection or events triggered by digital input devices, keeping administrators informed of any unusual activity.
Flexible Connectivity
The DCS-4701E has a built-in 802.3af compliant PoE module that simplifies installation by providing power and networking connectivity with a single cable, reducing the need to drill holes or lay additional cabling.
Five Year Warranty
D-Link stands behind the quality of the DCS-4701E with an included limited 5-year warranty. An optional extended warranty doubles the warranty to 10 years and adds next business day hardware replacement.*
*5-Year Warranty is for U.S. only