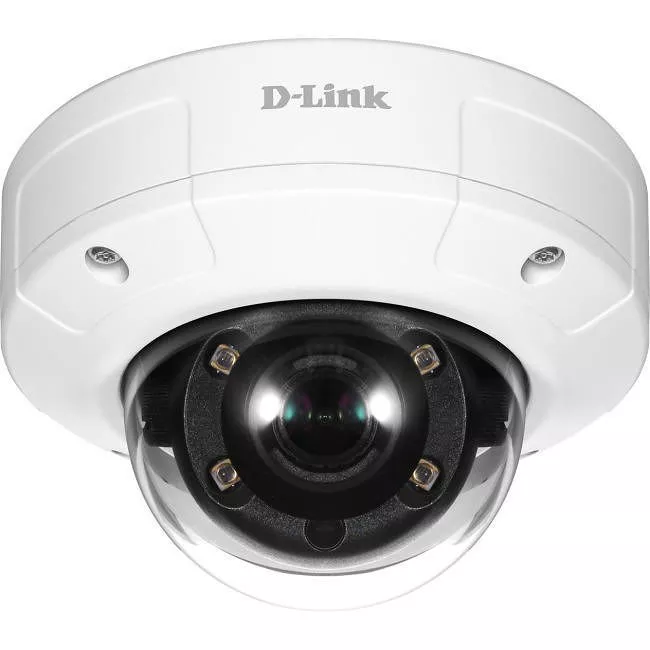 MPN: DCS-4633EV
D-Link DCS-4633EV Vigilance 3 Megapixel Network Camera - Monochrome, Color
The D-Link DCS-4633EV Vigilance 3-Megapixel Vandal-Proof Outdoor Dome Camera is a high-definition professional surveillance solution suitable for small, medium, and large enterprises. The camera uses a high-sensitivity 3-megapixel progressive scan CMOS sensor with onboard WDR image enhancement to deliver truly superior quality video in all conditions. The all-in-one rugged design makes this camera extremely reliable and ideal for deployment in surveillance applications without the need for additional accessories.
High-Quality Streaming & Recording
To maximise bandwidth efficiency and improve image quality, the DCS-4633EV provides real-time video compression using the H.265/H.264/ MJPEG codecs and supports three separate profiles for simultaneous video streaming and recording. Support for the latest H.265 High Efficiency Video Coding standard maximises network bandwidth for enhanced quality. Video resolutions of up to 2048 x 1536 provide clear details, and noise reduction and support for simultaneous video streams improve quality in case forensic work is required for evidence. Additional support for motion detection, event management features and ePTZ allow for implementation in a wide variety of surveillance applications such as monitoring public areas to detect incidents and to coordinate responses, enforcing access control to restricted areas, deterring criminal activity, or monitoring inventory.
Versatile Monitoring in All Environments
The DCS-4633EV features WDR image enhancement to deliver improved image quality in conditions with uneven or difficult lighting, so you can identify subjects that are backlit or in brightly-lit areas. In low-light situations, the IR-cut filter automatically slides out of the way to use all available light. The DCS-4633EV also has built-in IR LED illuminators with a 20-metre range, allowing the camera to keep watch even in complete darkness. IP66 certification ensures the camera is completely protected from dust and water in any environment and IK10 certified vandal-proof housing makes sure it keeps recording even when intruders attempt to sabotage the camera.
Robust Management Software
The DCS-4633EV Vigilance 3-Megapixel Vandal-Proof Outdoor Dome Camera includes D-ViewCam, a complete surveillance software package that enables you to view, manage, and record from up to 32 cameras on a single computer in a central location. Recordings and e-mail alerts can be triggered by motion detection or by digital input devices. This feature automatically keeps a record of any unusual activity and notifies administrators when no one is around to monitor on-site.
Flexible Connectivity
The DCS-4633EV has a built-in 802.3af-compliant PoE module that simplifies installation by providing power and networking connectivity with a single cable. This feature can speed along installation by reducing the need to lay extra electrical wiring and install outlets in the location since a power supply is not required.