Corsair CB-9060005-WW Hydro Series HG10 N970 GPU Liquid Cooling Bracket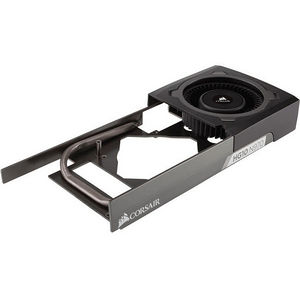 Highlights
Product Type: Cooling Module
Condition: New
Category: Computer Components
Subcategory: Processor Accessories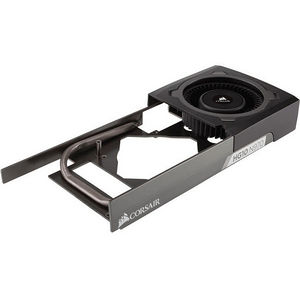 Corsair CB-9060005-WW Hydro Series HG10 N970 GPU Liquid Cooling Bracket
Highlights
Product Type: Cooling Module
Condition: New
Category: Computer Components
Subcategory: Processor Accessories
Maximize the performance of your NVIDIA GeForce GTX 970 or GTX 760 with liquid cooling
The Hydro Series HG10 N970 GPU cooling bracket unlocks the performance potential of your NVIDIA GeForce GTX 970 or GTX 760 GPU by pairing it with the proven performance of a Corsair Hydro Series liquid CPU Cooler (available separately). It provides comprehensive cooling for your graphics card, including the main GPU processor, memory, and VRMs.
The HG10 is quick and easy to install, and there is no better way to ensure you get the maximum performance out of your NVIDIA GPU with more overclocking headroom and quieter operation. Once you've upgraded your GPU to liquid cooling, you'll never want to go back.

The best upgrade you can make to your GPU
Liquid cooling is superior to air cooling - it's basic physics. With the HG10, upgrading your GPU to liquid cooling has never been easier. The HG10 protects your investment in your GPU, helps it run cooler, and gives you more overclocking headroom.
Full coverage, two-stage cooling
The HG10 isn't just liquid CPU cooler for your graphics card - it's a comprehensive cooling kit. It liquid cools your GPU, with the potential to lower its temperature by up to 45° C. And, the included low-noise blower fan provides quiet and efficient aircooling for the memory and VRMs.
Improves performance potential
Reducing your GPU's temperature gives it more overclocking headroom, allowing you to increase its clock speed by up to 25%.

Compatible with reference design Nvidia GPUs
The HG10 N970 fits GPUs based on the Nvidia GTX 970 and GTX 760. Not sure if yours is compatible? Check the compatibility list on the tech specs page.
Works with all Hydro Series Liquid CPU Coolers
The HG10 N970 works with the Hydro Series liquid CPU cooler you already have, and it's compatible with the entire Hydro Series line. Have you upgraded your original Hydro Series liquid CPU cooler, and have an older model lying around? This is the perfect application for it.