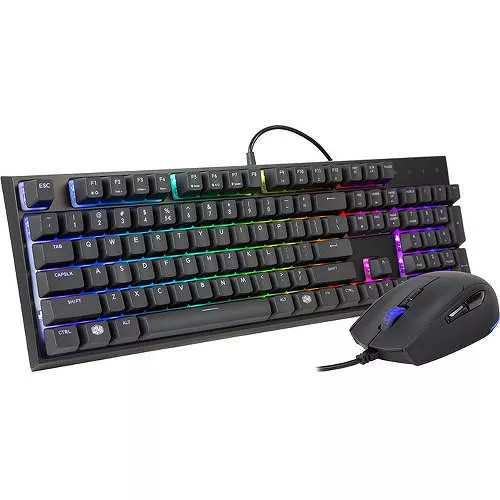 MPN: SGB-3050-KKMF1-US
Cooler Master SGB-3050-KKMF1-US MasterSet MS120 Keyboard and Mouse Combo
The MasterSet MS120 is a keyboard/mouse combo with the durability and features normally found in pro-grade hardware. The tactile keyboard and the precision mouse are both quality tools to elevate your gaming aspirations.
EXCLUSIVE TACTILE HYBRID MEM-CHANICAL SWITCHES
Engineered in-house, these Mem-chanical switches are especially designed for tactile feedback and clickyness, similar to those found in mechanical keyboards. The result is a keyboard that's fine-tuned to help you win all your battles.
SLEEK STYLING AND FULL RGB CAPABILITY
Get a board that looks and feels premium, with a stylish modern aesthetic. The MasterSet MS120 also comes with full per-key RGB capability for brilliant lighting effects specialized for each key.
RESPONSIVE 26-KEY ANTI-GHOSTING
No need to worry about whether your keyboard can keep up - MasterSet MS120 will take care of it all. Get targeted 26-key anti-ghosting on the most commonly used keys for gamers so you can rest assured that every keypress will be registered precisely.
A PRECISION MOUSE TO ELEVATE YOUR GAME
The mouse enclosed in our combo is custom-tailored for hardcore serious gaming. It has durable Omron switches, good for 10 million precise keypresses, and Pixart optical sensor that's optimized specifically for going on a killing spree.