Cooler Master MH-750 MasterPulse MH750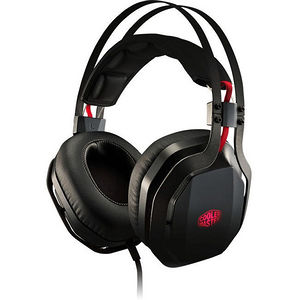 Highlights
Connectivity Technology: Wired
Earpiece Design: Over-the-head
Host Interface: USB
Product Type: Headset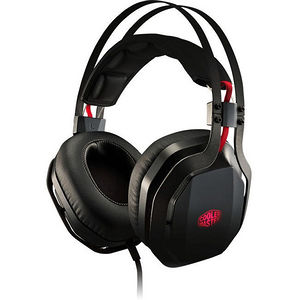 Cooler Master MH-750 MasterPulse MH750
Highlights
Connectivity Technology: Wired
Earpiece Design: Over-the-head
Host Interface: USB
Product Type: Headset
Hear Beyond the Fog of War
The MasterPulse MH750 Gaming Headset is a fully-loaded headset for full audio immersion. Features virtual 7.1 surround sound to escape reality, 44mm drivers for clarity, and an onboard sound card for superior audio processing power. And don't forget some patented Bass FX technology for an on-the-fly solution to adjusting your audio settings.
DROP THE BASS...FX
Bass FX is an exclusive, on-the-fly hardware solution to audio adjustment. Remove your side panels to amplify your bass for more explosive games - equally appropriate for those badass walk away from explosions moments. Keep 'em on if victory is assured by more subtle sounds, like the sound of an invisible hacker infiltrating your ranks. It's so good, it's almost like cheating.
COLOR YOUR EARS
Make your head look like it's part of an insane outdoor rave with RGB capability on the earcups. Adjust the obnoxious lightshow with a simple press of a button on the in­line remote. Or, y'know, you can just turn it off.
PRO-GRADE COMFORT
The MasterPulse MH750 packs some serious power in a modest, lightweight package. The lightweight, aluminum frame prevents those headphone headaches, and five individual cushions provide all­around comfort for your huge head, all while maximizing the potential to mess up your hair. Extra padded ear cups provide a high level of comfort for those long matches, while also offering a proper seal to prevent hearing the crushing reality of the outside world.
AUDIO TO ESCAPE REALITY
The MasterPulse MH750 is outfitted with gaming grade hardware to ensure an unrivaled sense of audio immersion. The 44mm audio driver give you sound quality that you can describe like fine wine: rich mids, robust lows, and tannic highs. Virtual 7.1 surround sound allows you to hear everything around you except for the sad reality of true life. An onboard sound card takes care of all this, ensuring that the only thing your PC has to worry about is keeping your fps high and your latency low.