Broadcom 05-25420-17 LSI00462 / SAS 9361-8I SGL 2GB - 8 Internal Port 12 Gb/s SAS Controller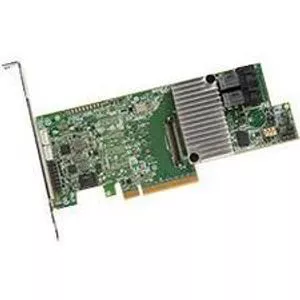 Highlights
Product Type: SAS Controller
Host Interface: PCI Express 3.0 x8
Platform Supported: PC | Linux
RAID Levels: 0 | 1 | 5 | 6 | 10 | 50 | 60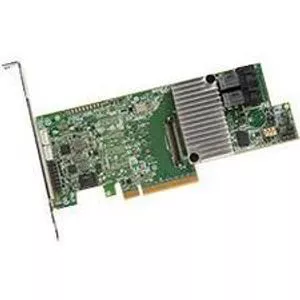 Broadcom 05-25420-17 LSI00462 / SAS 9361-8I SGL 2GB - 8 Internal Port 12 Gb/s SAS Controller
Highlights
Product Type: SAS Controller
Host Interface: PCI Express 3.0 x8
Platform Supported: PC | Linux
RAID Levels: 0 | 1 | 5 | 6 | 10 | 50 | 60
Unmatched RAID Performance for Next-Generation Servers and Storage

The explosive growth of data in cloud and enterprise data centers is driving the need for a higher performance storage interface to accelerate the ability of critical applications to access data. Broadcom first-to-market 12 Gb/s SAS solutions are designed to deliver the performance and data protection capabilities required for the most demanding next-generation server and storage platforms. Offering up to double the data transfer rate of 6 Gb/s SAS solutions, 12 Gb/s SAS allows the SAS infrastructure to deliver bandwidth that can fully utilize that of PCI Express 3.0 with a single controller card. The MegaRAID® SAS 9361-8i, with eight internal ports, delivers two 1.2 GHz PowerPC processor cores and a 72-bit DDR3 interface that drives 2 GB cache memory. Powered by the SAS3108 RAID-on-Chip (ROC), the 9361-8i controller includes the latest PCI Express 3.0 and 12 Gb/s SAS technology and helps users to support increased scaling of hard disk drives (HDDs) and maximize the performance benefits of solid state drives (SSDs).

Enterprise Data Protection
Standard support for the most popular RAID levels and accessories, including RAID 5, RAID 6, and CacheVault® Flash cache protection module, further strengthen the data protection capabilities of the MegaRAID SAS 9361-8i. A new enterprise feature employed by the 12 Gb/s MegaRAID SAS controllers is advanced drive diagnostic technology. In the event of a physical drive failure, the drive is placed in shield state and the MegaRAID controller starts drive diagnostics to determine if the drive is indeed failed or can be restored. This saves customers time, money, and lost compute time associated with transient drive failures and unnecessary drive returns.