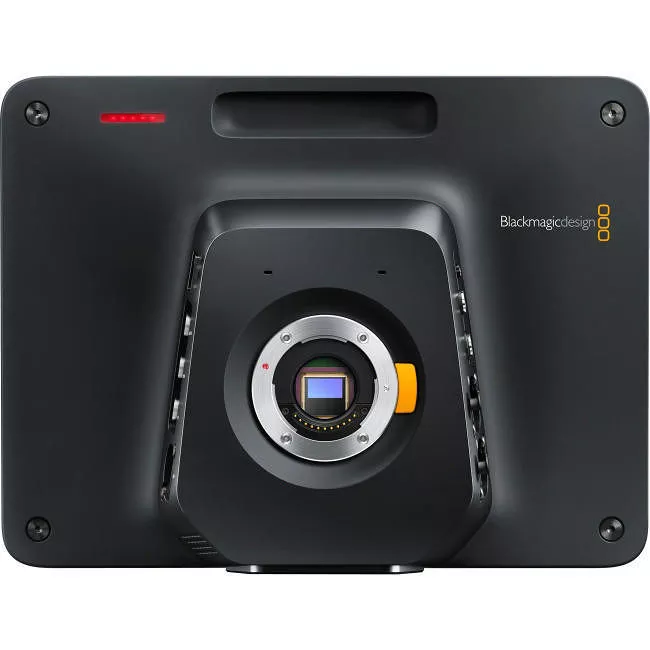 MPN: CINSTUDMFT/HD/2
Blackmagic Design CINSTUDMFT/HD/2 Digital Camcorder - 10.1" LCD Screen - Full HD
The world's smallest broadcast camera with the world's largest viewfinder!
Introducing Blackmagic Studio Camera, the world's most advanced broadcast camera for live production! Inside its incredibly tough, lightweight magnesium alloy body you get a massive 10 viewfinder, talkback, remote camera control, tally indicators, phantom powered microphone connections, and SDI or user installable optical fiber connections that let you connect to your switcher with a single cable! The Blackmagic Studio Camera is available in HD and Ultra HD models, and is packed with all the advanced features you need for multi camera production and broadcast!
Designed for Live Production

Perfect for outdoor and indoor live production
Now you can produce multiple camera live production in any location! The super bright large viewfinder and compact size of the Blackmagic Studio Camera makes it perfect for talk shows, sitcoms and broadcast news in the studio, or even live concerts and sporting events. The incredible lightweight compact design, foldable sunshade and interchangeable lenses mean you can pack an entire multi camera live production rig into a single road case! Because it's so easy to setup and use, the Blackmagic Studio Camera is also perfect for corporate AV departments, houses of worship, schools and more!
Revolutionary Design

Advanced technology in a compact, rugged design
The Blackmagic Studio camera features a compact and durable magnesium alloy body that is packed with innovative technology, making it the most rugged, portable and advanced studio camera in the world. You get a huge 10 viewfinder with sunshade for optimal viewing and control, a flexible MFT mount that gives you more lens options than any other studio camera, multiple mounting points and professional broadcast connections. Designed with the latest miniaturization technology and features, the Blackmagic Studio Camera is the world's most advanced camera that's specifically designed for multiple camera live production.
HD and Ultra HD

Over 4 times the size of 1080HD!
Ultra HD is the broadcast standard of the future and 4K content is already being delivered to consumers today through web video channels like YouTube and Vimeo. New Ultra HD displays deliver a picture that has 4 times the resolution of 1080 HD, that's a massive 3840 x 2160 pixels! From the newsroom to live sporting and theatrical events, there's no faster way to capture the beauty and realism of Ultra HD 4K than to record a live switched program with Blackmagic Studio Cameras!