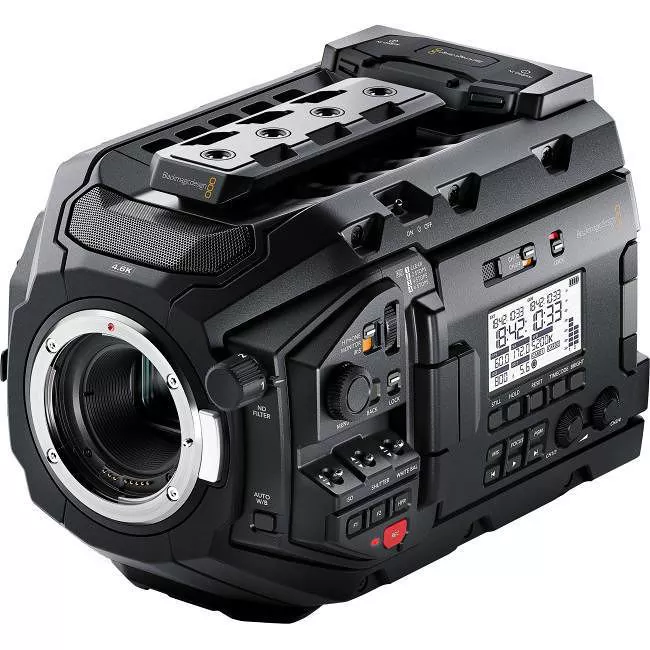 MPN: CINEURSAMUPRO46K
Blackmagic Design CINEURSAMUPRO46K URSA Mini Pro 4.6K
Blackmagic URSA Mini ProThe world's first digital film camera with professional broadcast camera features and controls!

Introducing URSA Mini Pro, a professional digital film camera that combines the incredible image quality of URSA Mini 4.6K with the features and controls of a traditional broadcast camera! You get a massive number of controls on the side of the camera which are positioned so you can adjust most settings by feel, and without ever having to take your eyes off the action. URSA Mini Pro also features built in ND filters, a status display and a revolutionary new interchangeable lens mount that lets you change between EF photographic lenses or PL, B4 and F mount lenses. URSA Mini Pro records up to 60fps and features dual CFast 2.0 recorders as well as dual SD/UHS-II Card recorders. URSA Mini Pro is lightweight and comfortable enough to use all day, has controls that are extremely fast to use, and image quality that's far superior to broadcast cameras costing ten times more!
Digital Film Quality for Every Project The perfect camera for digital film,broadcast, live production and more!
URSA Mini Pro is three cameras in one because it combines high end digital film quality with the features and controls broadcasters need. It's ideal for any kind of work from high end feature films, television shows and commercials, to independent films, broadcast news, and even studio and live production! URSA Mini Pro features beyond Ultra HD 4.6K resolution plus 15 stops of dynamic range, all with a super wide color gamut and DaVinci color science so you always capture cinematic quality images. The super compact body features broadcast camera controls and advanced operating software that make it faster to set up and use than any other camera! Whether you're on set, on location or shooting run and gun, URSA Mini Pro has the image quality and features you need to work on any type of project!
Two Incredible Models Choose URSA Mini or URSA Mini Pro models
The URSA Mini family are powerful and robust cameras that are available in five different versions, so you can choose the camera that best suits your needs. Choose the affordable URSA Mini 4K and URSA Mini 4.6K models with cinema quality, fixed EF or PL lens mounts, and dual CFast card recorders. Or choose the all new, advanced URSA Mini Pro 4.6K that adds built in ND filters, an interchangeable lens mount, dual CFast UHS-II SD card recorders and powerful broadcast features and controls!
Revolutionary URSA Design Big camera features that are fastto use in a lightweight, portable design!
URSA Mini Pro is designed to include everything you need in a handheld camera so you can take anywhere! Unlike cheap plastic cameras, the evenly weighted camera body is made out of a super tough magnesium alloy. It's a true professional camera with full redundancy on every control, even the power switch! Plus, the familiar broadcast switches and controls allow full setting changes without having to take the camera off your shoulder! There's an external high visibility LCD status display so you can see critical shooting information, and a 4 foldout touch screen for reviewing shots so you don't have to carry an extra on-set monitor! You get professional connections such as 12G-SDI, XLR audio, a built in high quality microphone and more. The optional electronic viewfinder and shoulder mount kit lets you go from tripod to handheld shooting in seconds, or you can turn URSA Mini Pro into the ultimate live production camera by adding an URSA Studio Viewfinder!