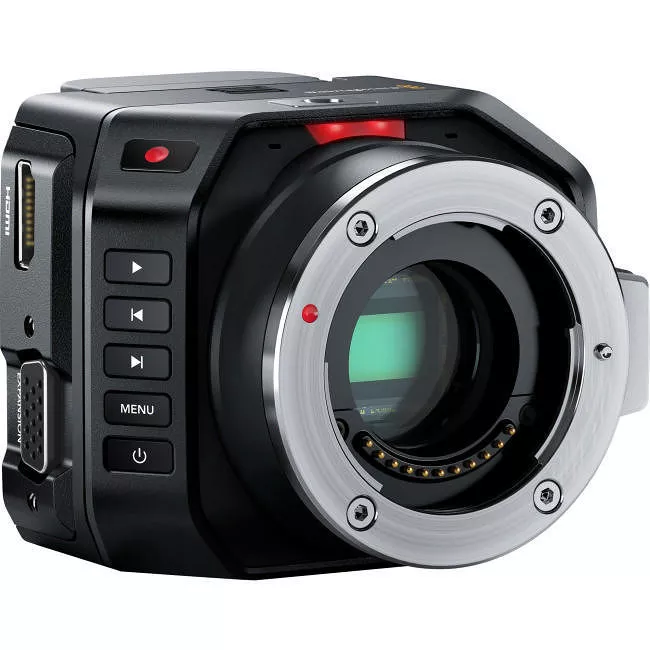 MPN: CINECAMMICHDMFT
Blackmagic Design CINECAMMICHDMFT Digital Camcorder - Full HD
The world's smallest digital film camera with innovative remote control!
Introducing the Blackmagic Micro Cinema Camera, a miniaturized Super 16mm, professional digital film camera that is designed to be operated remotely and capture action anywhere! A revolutionary built in expansion port has PWM and S.Bus inputs so you can use a model airplane remote control to operate the camera wirelessly. Imagine adjusting focus, iris and zoom wirelessly! The Micro Cinema Camera is a true digital film camera that features built in RAW and ProRes recording, 13 stops of dynamic range and an MFT lens mount. You get a true digital film camera that can go where no other digital film camera can!
Get Incredible Action Shots

The digital film camera for action camera shots
The Blackmagic Micro Cinema Camera is an impossibly small true, professional quality digital film camera that's perfect for use on quadcopters, as a crash cam, or even hidden on set for reality TV. You can mount it anywhere such as on a skate board or hang glider for spectacular extreme sports shots, to a drone to record panoramic fly overs, or even wear it on a helmet for the most amazing point of view shots! The Blackmagic Micro Cinema Camera will make your audience say Wow! How did they get that shot?
Remote Camera Management

Wireless control of your camera from a safe distance
When you're mounting the camera on quadcopters, using it as a crash cam or placing it in dangerous locations, you can operate the camera remotely, view a live feed and monitor status, all from a safe distance. The expansion port can be connected to radio control airplane receivers and various camera functions can be mapped to radio channels so you can remotely start and stop recording, adjust focus, change the iris and more! The expansion port also has a composite video output that can be connected to low cost wireless video transmitters for remote monitoring of the camera's recording status, battery life and audio levels.
Extremely Customizable Design

The world's smallest completely open and customizable camera
The design of the Blackmagic Micro Cinema Camera combines advanced miniaturization and a unique expansion port in a digital film camera that lets you create personalized rigs for remote operation and monitoring. The camera body is not much larger than the Micro Four Thirds lens mount making it as small as a camera with a professional lens can be. Its core is made out of a lightweight and strong magnesium alloy that makes it durable enough to shoot anywhere, from the ocean floor to the stratosphere or beyond! You can control the Micro Cinema Camera directly from the front buttons when it's mounted, or remotely when it's out of reach.
Revolutionary Expansion Port

Now you can create your own custom camera remote control
The revolutionary expansion port lets you create custom remote control, external power and monitoring solutions. The included breakout cable gives you access to many of the camera's unique functions, but you can also create your own custom cables that open the camera up to do even more. In addition to things like LANC, power, video out, and genlock, you also get 4 analog PWM radio remote control inputs so you can map camera functions to the dials, knobs, buttons and joysticks on model airplane remotes! For even more control with greater precision, you can use the 18 channel S.Bus control input with Futaba radio control equipment or custom embedded controllers.