Black Box CC42U5000T-R2 ClimateCab NEMA 12 Server Cabinet with Tapped Rails - 42U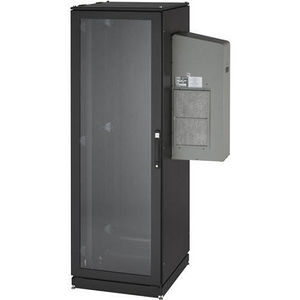 Highlights
Product Type: Rack Cabinet
Rack Height: 42U
Depth: 31.5
Application/Usage: Server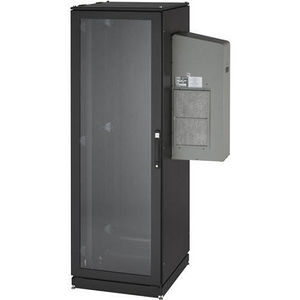 Black Box CC42U5000T-R2 ClimateCab NEMA 12 Server Cabinet with Tapped Rails - 42U
Highlights
Product Type: Rack Cabinet
Rack Height: 42U
Depth: 31.5
Application/Usage: Server
Included AC unit mounts on the side of the ClimateCab cabinet. Installation takes about five minutes.
Fully welded 12-gauge steel frame holds up to 2000 pounds (907 kg).
Three-point locking handles on front and rear doors.
Features standard 19 rails.
Includes casters and levelers.
Rack angles are adjustable front to rear.
Fully gasketed openings, including a gland plate in the base, help to protect your devices from dust and other contaminants.
PLEXI-GLAS® window in front door.

The ClimateCab™ NEMA 12 Server Cabinet is your answer when you need to house servers but don't have a cooling infrastructure in place. In smaller installations, you can save thousands by using a ClimateCab cabinet instead of installing a complete data center with a custom cooling system and raised floors. The ClimateCab is ideal for indoor use when you need to keep your servers outside a climate-controlled data center. This 42U version of our full-sized ClimateCab is ideal when you have only a few servers to house.

ClimateCab is sealed against dripping water and dust, too. Sealed cable entries prevent air exchange. The 5000-BTU ClimateCab Air-Conditioning Unit (included) keeps your equipment comfortably cool. Just install your equipment, plug in the AC unit, and you have a complete, self-contained, self-supporting data center!

The ClimateCab 5000-BTU Air-Conditioning Unit helps to control the temperature inside your ClimateCab by removing the heat buildup created by hot network devices. This unit uses closed-loop cooling in which the clean air inside the cabinet is kept separate from the ambient air to protect delicate components from humidity, dust, and other contaminants.

The ClimateCab Air-Conditioning Unit mounts in the side of the cabinet in minutes with eight bolts and can easily be installed by one person. Mounting hardware, gaskets, and instructions are included.