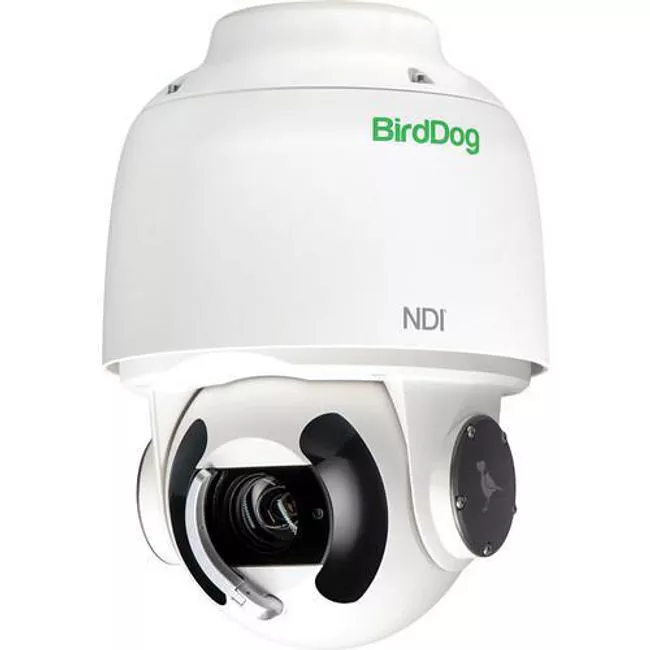 MPN: BDA200
BirdDog BDA200 Eyes A200 2.1 Megapixel HD Network Camera
Weatherproof Full NDI® PTZ.
Designed for fixed outdoor installations such as sports, the IP67 rating means A200 can withstand pretty much any weather conditions. By teaming up BirdDog's custom NDI® silicon chip, a Sony CMOS backlit sensor, and a true Sony Image module A200 has lightning auto focus, incredibly sharp images, and insanely fast zoom. A200 has frame rates up to 1080p60, 30x optical zoom, and outputs SDI and Full NDI® simultaneously.
Full NDI®. No compromises.
In the world of NDI there are two flavours, NDI® and NDI|HX. NDI® is a variable bit rate, I-Frame codec that is reaches around 140Mbits at 1080p60 and is visually lossless. NDI|HX is a compressed, long-GOP, H.264 variant that reaches around 12Mbits at 1080p60. Eyes A200 hardware only Encodes and Decodes Full YUV422 NDI®.
Sony Sensor. You deserve the best.
The best pictures come from the best silicon. A200 is teams up a world class Sony CMOS Backlit Sensor with the BirdDog custom NDI® chip to form a match made in silicon heaven. Your productions deserve the best.
Sony Image Module. Optics done right.
Lightning auto focus. Insanely fast zoom. Precision optics. The only way to achieve the best picture quality is with image module made by the world's best. A200 uses a true Sony image module to give unparalleled performance, picture quality, and responsiveness.
All weather. Keep your NDI® dry.
With an IP67 rating A200 is perfect for fixed installations in outdoor and indoor environments. The external housing has been treated for corrosion resistance against salt spray and the -40°C to +60°C operating temperature rating means it has been designed to withstand the most extreme elements on earth. It even has a rain wiper to keep water off the lens.
Dual Output. NDI® and SDI.
With NDI® and SDI simultaneous outputs, the A200 is ready to go live with your full NDI® workflow, or if you are still in an old school SDI workflow you can control via RS422, RS485, and RS232 to future proof your investment by using baseband video now and move to NDI® when you are ready.
30x Optical zoom. Over there is now over here.
The two punch 30x optical zoom and all weather abilities of makes A200 perfect for outdoor and indoor fixed installations for sports such as football, baseball, hockey, ski fields, basketball, soccer, and more.
You spin me right round baby. Right round.
360 degree continuous rotation, 255 preset positions, Zero Deviation Positioning technology, and a preset movement speed of 150 degrees per second mean you will never miss a shot again.
PTZ Keyboard. Take control.
Combine A200 with the BirdDog PTZ Keyboard and you have total control of all functions remotely. PTZ Keyboard is a full featured PTZ Keyboard that can control up to 255 PTZ cameras on a single network so can scale to even the most complex installations. PTZ Keyboard can control A200 over NDI® or by RS422 / RS232 when using in SDI mode.
PoE and Mounts. All options available.
A200 can be powered by PoE with an optional PoE Injector. Designed to hang upside down the choice of mounting options gives coverage for virtually any situation. Wall mount, Ceiling Mount, Corner Mount and Pole Mounting options all available.