BenQ EW2440L (GOLD) EW2440LGOLD 24" Full HD LED LCD Monitor - 16:9 - Gold, Glossy Black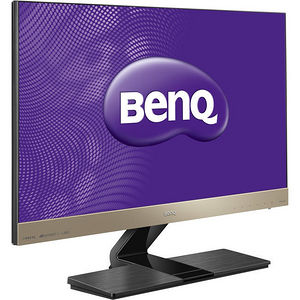 Highlights
Maximum Resolution: 1920 x 1080
Brightness: 250 Nit
Platform Supported: PC
Product Type: LCD Monitor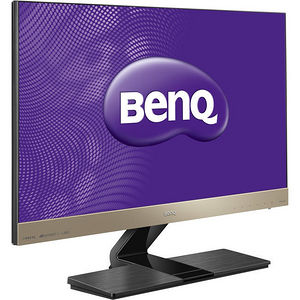 BenQ EW2440L (GOLD) EW2440LGOLD 24" Full HD LED LCD Monitor - 16:9 - Gold, Glossy Black
Highlights
Maximum Resolution: 1920 x 1080
Brightness: 250 Nit
Platform Supported: PC
Product Type: LCD Monitor
Transform Mobile Entertainment with MHL Connection
Connect your smart device to the new EW40 Series and indulge in the premium picture quality that is has to offer. The MHL connection ensures flawless streaming from any MHL-equipped smart device, allowing you to enlarge and optimize any content displayed on your smart device effortlessly. With this feature, you can browse websites, watch videos, play games and even go over various documents on a full 24 or 27 screen - without having to turn on your computer at all.
MHL certified mobile devices.
The BenQ EW40 Series Monitors can be connected with the MHL enabled mobile and portable devices of major brands such as HTC, LG, Samsung (some models require an adaptor), Hwawei, Sony and the list continue to extend.
RevolutionEyes - Monitor Technology Built for You
With monitors purpose-built for critical functions for gamers, graphic designers, photographers, artists, creative and business professionals, BenQ balances aesthetic appeal with peak performance and comfort. In the EW Series, RevolutionEyes technology includes ZeroFlicker, Low Blue Light mode, and an intuitive UI with comfortable extended viewing. BenQ is revolutionizing the monitor industry with improved resolutions, faster response time and quicker refresh rates. With sleekly designed monitors to complement today's trendiest home and office environments, BenQ is leading the way with purpose-built solutions that deliver incredible value and the very best user experience.
Heighten Your Movie Enjoyment with Cinema Mode
Enabled by BenQ's exclusive color engine technology, the Cinema Mode automatically processes and fine-tunes video contents to perfection, so that a truly dynamic cinema experience is what you'll get.
Upscale Every Viewing Experience with Super Resolution
To give you an optimal online video watching experience, the EW40 Series simulates high-resolution images by boosting the pixel density of the original video source with the Super Resolution image enhancement feature.
Distraction-free Viewing with Smart Focus
Smart Focus allows you to pinpoint a window or area on the screen and make that the focal point. By concealing the rest of the visual content, you're able to focus on exactly what you aim to enjoy.
ZeroFlicker™ Backlight for Visual Pleasure
The ZeroFlicker technology eliminates flickering at all brightness levels and effectively increases eye comfort. Conventional LCD screens flicks 200 times per second. Your eyes may not see flickers, but they can certainly feel them. Free your eyes from flickers by switching to flicker-free monitors and let your eyes do less work.
Place a fan before the monitor screen to check through the spinning fans for flickering
Visible Flickering
Use your camera to take a picture of the monitor screen to check for flickering
Visible Flickering
Low Blue Light Mode
Every Monitor produces a strain of blue spectrum light that is one of the critical causes of eye damage, eye strain, headaches and sleeping disorders. BenQ's unique Low Blue Light technology is designed to deal with the everyday problem of blue light exposure and allows a healthier time spent in front of your computer. Switch to one of the four preset Low Blue Light Modes from OSD hot key (Multimedia - 30% reduction, Web-surfing - 50% reduction, Office - 60% reduction, Reading - 70% reduction), and reward your eyes without having to lose the visual enjoyment.