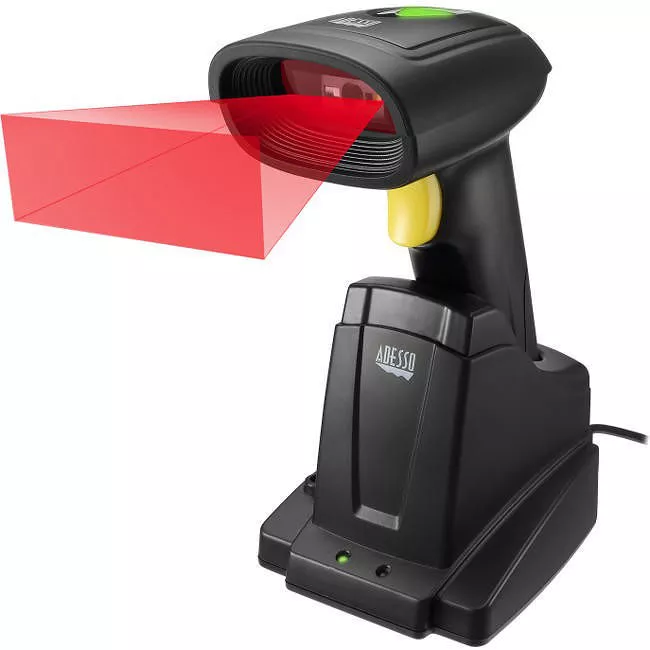 MPN: NUSCAN 7400TR
Adesso NUSCAN 7400TR Handheld Barcode Scanner
The Adesso Nuscan 7400TR is the ultimate wireless barcode scanning solution. With its maximum scanning rate at 200 scans per second, users will find increase in their work efficiencies. The Nuscan 7400TR's new decoding engine allows it to decode common 2D barcodes such as QR Code, PDF 417, and Data Matrix. It also scans common 1D barcodes. With the 2.4 GHz RF Wireless Technology, users will find connecting the scanner with your machine a breeze. Plug-n-Play, it's that simple. This technology also enables users to scan wirelessly up to 100 feet. With its strong casing design the scanner will withstand drops from as high as 5 ft. On top of all the above great features, the Nuscan 7400TR is also ergonomic, designed to comfortably fit in your hands. The Nuscan 7400TR is truly the go-to 2D wireless barcode scanner.

Product Features:

2.4 GHz RF Wirless Technology
The wireless receiver allows the scanner to work up to 100 ft. with no wires to get tangled.

Charging Cradle with Built-In Receiver
This charging cradle allows for hands-free scans and charges the scanner at the same time. It's built-in usb receiver also makes the scanner completely Plug-n-Play!

Wide Symbology Compability
Its built-in decoder can read the majority of 1D & 2D barcodes and its driver-less operation makes it easy to use with both Windows® and Mac® operating systems.

2D Scanning Engine
Easily and instantly read 2-dimensional barcode symbologies such as the most common QR Code, PDF 417, and Data Matrix.

Superior Scanning Performance
The 24 inches per second (IPS) motion tolerance and the innovative high pixels CMOS engine offer fast and accurate scanning results.

Long Range Barcode Scanning
The NuScan 7400TR is able to scan barcodes and transmit those barcode data to its charging cradle with built-in receiver from up to 100 feet away.

Impact Resistant
With the scanner's CMOS engine and durable silicone plastic material, it makes the Nuscan 7400TR less likely to become damaged due to accidental drops.

Slim & Ergonomic Design
Sleek lines, easy-to-hold grip and a thumb-switch offer maximum comfort for long scanning use.